My fishing buddy Alistair was intrigued by my recent carp captures on the Lot. So I invited him to join me this morning - did I make a mistake?
This last year I have given him tackle for the bigger fish and put new line on the reel. It was hardly used but he bought some cheap gear from Decathlon and caught some barbel.
Finally he twigged there is a really good chance of big fish here and bought some boilies, YouTubed hair rigs etc and joined me for the carp session.
Within 5 minutes he hooked into this carp. The carp took about 150 yds in one rush as his drag was set too light. Then I asked him what breaking strain his hair rig was on.......10lbs bs he replied! OH DEAR!!!
So I stood next to him an advised him to keep steady resistance but not bully the fish. By this time though the carp had reached the nearside weed bed about 80 yds away. Anyway, light but firm pressure and the line slowly sawed its way through and the carp went into clear water. After a few more powerful but shorter runs it dashed back to our side and around a tree stump.
By some miracle it came back out and there was weed over the carps eyes. A few more lunges but it was ready for the net, wet feet for me again.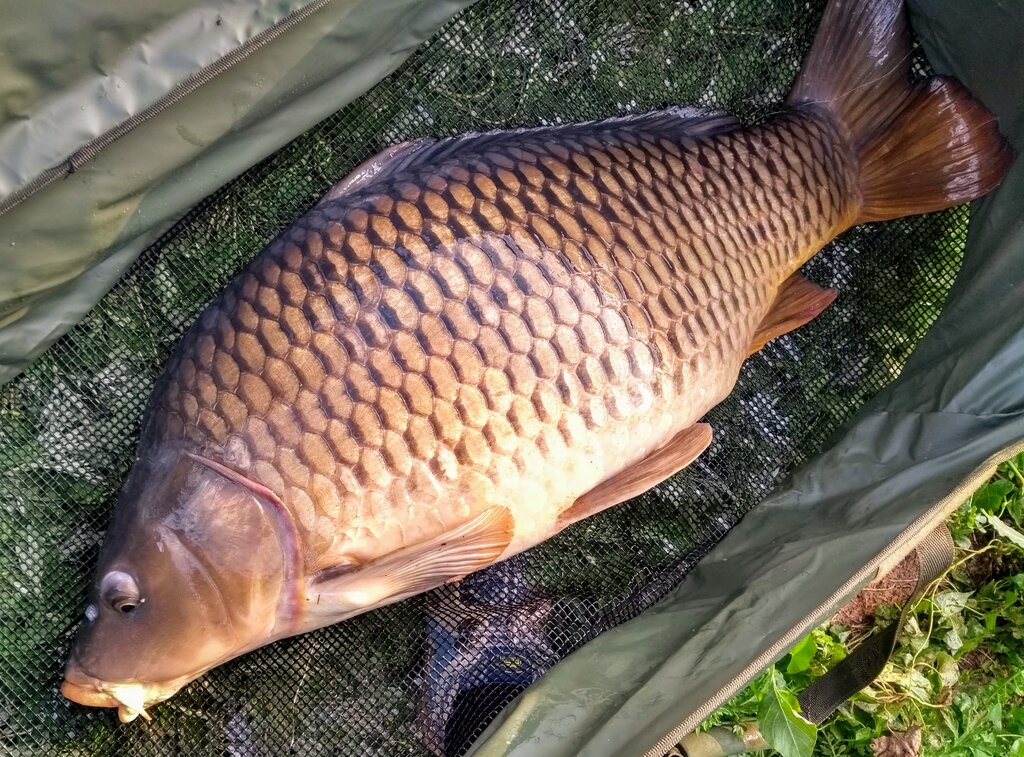 Weighed in at 34 lbs, a bruiser of a fully scaled river carp!
A little bit of skill, but a hell of a lot more luck! Still, well done Alistair - always fun to fish with you!