The bfw torrix 11' not just a short version of the 12' torrix as this wonderful blank is slimmer than it's bigger brothers. Available in 1.75 and 2.0 test curves with the usual 'Torrix' cosmetics. Another classic in the making. The rod has a beautiful woven butt section and ground tips .


A standard bfw torrix butt showing the woven texture of the blank.

The torrix blank is extremely light and has a beautiful mid-to-through action. The rod has
masses of power low down in the butt with the capacity to stop powerful fish in tight swims.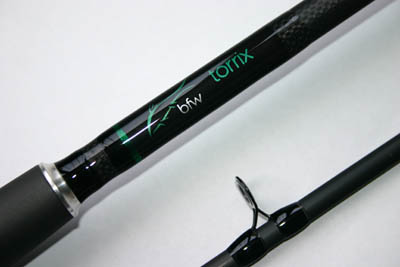 This bfw torrix has a matt blank and a green logo.
The bfw torrix has a lovely soft tip in all configurations that makes even subtle bite
detection possible. The bfw torrix is set to be a modern day barbel classic and has
already been adopted by Bob as his own rod of choice!