The bfw torrix is built on Harrisons latest 12 foot barbel blank available in either 1.75
test curve, 2lb test curve or as a twin tip rod. Based on their extremely successful
carp blanks in higher test ratings the torrix is aestetically stunning, especially when
hand built by Bob Gill. The rod has a beautiful woven butt section and ground tips .


A standard bfw torrix butt showing the woven texture of the blank.

The torrix blank is extremely light and has a beautiful mid-to-through action. The rod has
masses of power low down in the butt with the capacity to stop powerful fish in tight swims.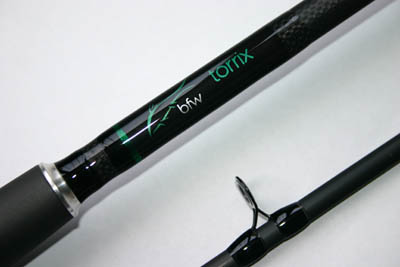 This bfw torrix has a matt blank and a green logo.
The bfw torrix has a lovely soft tip in all configurations that makes even subtle bite
detection possible. The bfw torrix is set to be a modern day barbel classic and has
already been adopted by Bob Gill as his own rod of choice!