River Kennet - Lucky for some
by Graham Elliott
I returned to the Kennet after an absence of over 30 years. As a youngster I had fished for itís glorious roach and it had also rewarded me with a first barbel.
When my river mentor, Roy, moved to other parts, the fascination waned and I got caught up in marriage, work and constant travel with my employer British Airways.
Later, my love of fishing was rekindled on the mysterious and challenging River Loddon, St Patrickís stream and occasional visits to the Hampshire Avon.
After many seasons of discovering their moods and favours, I found that these rivers no longer embraced me within their flow, and that special, childish eagerness was missing from each fishing trip. Predictability is not wanted in most fishers hearts.
New adventures with new friends awaited and I joined the Reading and District Club that had access to many miles of the Kennet.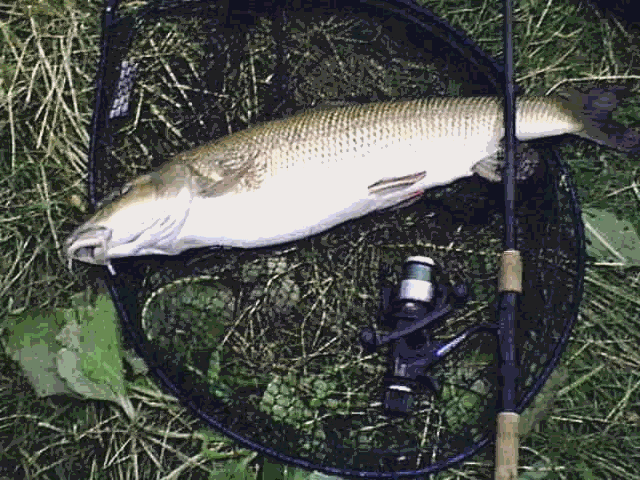 A recognisable double from the Pats. Caught three times. Time to move on
Walking the bank in the closed season, I was amazed how little had changed, I still recognised those "special" swims - a first barbel, a glorious net of roach, the chub hole. It looked so remarkable that I wondered why I had waited so long to renew a latent love affair. Two things worried me however, the amount of litter left on the bank and stories of shoulder-to-shoulder anglers on certain stretches. Fortunately there is more than enough river to avoid those areas.
My first season was simply a learning curve that gave some good barbel, lots of carp and the lesson that more heavily fished waters need new skills to be consistently successful. Here I was very fortunate of having access to many web sites and wonderfully experienced Kennet anglers like Dick Dowing, Ian and Jon who were posting regularly on BFW.
I shared with them some of my favourite waters as recognition of the help they had, and continue to give me. My usual style of fishing would sometimes reap rewards, strangely more so when the going was tough, but in consistent results I came a clear second.
In common with my view of angling etiquette, I would never ask, what bait, what rig was being used on the day, and in the true spirit of angling this information was offered and eagerly absorbed. Pride would never allow me to match exactly the knowledge kindly shared, but the same with a twist seemed ok!
The second season I would put to use the improvements in my technique and the two days that follow illustrate that I am on the right track.
September
As the car turned onto the M4 I still hadnít decided where to fish. The Lower Benyons called, now the colder weather had reduced the numbers of anglers it might be possible to not only catch some decent fish but also keep their capture relatively quiet. A busy run, 8.30 a.m. and heavy traffic did not quell the anticipation I felt, and the soft westerly winds with a hint of rain simply added to the excitement.
Off at junction 12, left or right? The car took over and I found myself on a beat that I had not fished since the early part of the season. It had not been too kind as far as barbel but there was chub and carp a plenty.
Tackling up was finished quickly, a new Daiwa barbel specialist at 1.5tc, more power than my oft-used Spirit 1.25. Line was the newly acquired 10lb fireline braid, my initial concerns having been overcome during a series of fish catching and branch hooking experiences. I compensate for my mono fish fighting skills with a low clutch setting. The end rig consisted of a Scorpio carp hook, running feeder and hair rigged bait.
Smaller fish were topping, a good sign, as I cast to the far bank. Time to relax.
Relax is a joke - my relaxing means a being coiled up tightly as a wound spring! Every movement of the tip is seen and analysed. Very rarely will the tip crash over without a minor knock or indication of sorts. Sometimes the give away is a simple heaviness on the line, sometimes a relaxing. This to me is part and parcel of the fun.
Thirty minutes passed and then a simple tremble preceded the rod dipping down at a leisurely pace. Lift the rod and it was immediately jabbed down again with force, the clutch tightened a tad and the rod levelled to turn the fish from its charge toward the toughened weedbed found on previous trips. The fish complied and I knew then it was a medium size fish as it tore off again at pace in a different direction. Gradually it tired and blessed the net, a hard fighting 7lb plus fish, golden in colour and with a small tear in its dorsal fin. Caressed and slipped back to the edge of the near bank streamer it nosed down and sulked before moving away after a few minutes.
Itís good to be a catching angler and the inherent nervousness relaxed.
A chub followed, how these Kennet chub have prospered, a 4lb fish being just average for the river.
A missed barbel bite, caused by my years of fishing with the bait embedded in the hook and striking the knocks, just too early on that one.
The flask came out, the initial activity having slowed and on this beat it often will close down from midday till 4pm. Another tremble, then a jab, then the rod bends slowly as if a bream was laying on the line, but this one continues riverward.
I strike (Damn you donít do that with braid!) and the rod arches over and continues to pound in my hands. Tighten up a tad, then one more click as the fish powers towards the same weedbed as the first, finger on the reel to stop anymore line being given as the rod thumps, thumps and then thumps again. Knees start to take on a strange quivering motion as I realise this is a Biggie. The thought, maybe itís a carp? Adds more concern to my features as the fish is beefed across the river to the inside. Under the rod tip, then two deeper lunges before the goliath is slipped over the net rim.
Out of breath, both of us, the fish is submerged in the margins whilst I get the scales and bits out. On last thing, a Ďphone call to Dick, my oft fishing partner.
Still breathless I recount the tale, I want him to share the weighing and he also enjoys the moment as the pointer indicates 13lb.7oz. He is totally enthusiastic.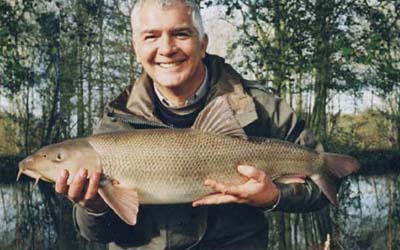 A superb 13 from the Kennet
No camera, no witnesses, no cares. The fish is slipped back after a short recovery and I wave to it as it descends into the slack water. A smile lights up Berkshire.
Another barbel followed, baby of 2lb but just as precious as the big one.
I leave early to miss the outpouring of the workers from Reading, telling Keith Truscott and Goose (Malcolm) of my news. They share the day.
November
A colder day this, with more than a hint of rain but occasional sun to warm the static anglers back.
Iím awaiting Dick, great riverbank companion, and top angler who had a good session last night and canít face the dawn. First cast a barbel of 5lbish, good sign for the day.
A Ďphone call to Dick saying they are on it and get moving friend.
Two hours later as he ambles towards me along the river, he thinks I am playing a game as the rod is bent double and he smiles from distance, he speeds up as the tip changes direction and curves under the near bank. " Greeeeeeeeeeeeat" like the cereal tiger he growls as he does the honours and nets the fish "Must be a near one?"
A well-proportioned 9lb.12oz fish is returned, I am happy and can relax.
We fish close together, unusual, but today will be a day of chat and laughter as we privately assassinate some web posters and talk of special days, family and work.
The rod wraps around and I hold a powerful fish that heads to a snag. Dick laughs and whips out the camera to take some stills as I hold on for dear life as the fish literally pulls me towards the river. "No Line, No line" I repeat, having lost fish in this snag before. There was that half moment when you expect the line, knot or whatever to crack and leave you with "the one that got away" story, but that disappeared as the fish finally yielded and started to weaken and allowed itself to be grudgingly led towards the bank. Dick still snapping, me saying out aloud " Please donít come off"
It runs along the near bank into deeper water and sulks on the bottom but responds to the changing angle of the rod and follows back to the surface.
In the net, a wonderfully shaped and scale perfect fish.
Some Ďphotos and another 13 was released, this one 4 oz less than the previous one.
We stood and watched it slowly glide away. Dick pats me on the back, "well done partner"
My fishing was finished but Dick added two more good-sized barbel to our tally before the light told us it was time to depart.
Not by far the biggest fish in the Kennet but they gave great pleasure to this angler.
Hopefully then my Kennet adventure is just beginning, with a visit now and again to the Pats and Loddon to renew acquaintances with old fish friends is on the cards.
The best months for bigger fish are yet to come this season, but two 13ís, thatís lucky for some.
---