Super Moderator
Staff member
It has been strange having my celebrity status ripped from me. Although I was only a star for a brief period, I feel naked without it, and unsure of exactly who I am. Anyway, I guess the sooner I get used to being just an ordinary angler again, the better, for all concerned.
The last few weeks have been hard for my family as well as me, but I'm glad to say that things are almost back to normal now. As you can see from the photo below, my wife has been extremely accommodating when it comes to allowing me access to my son. We both agree it's important for him to continue seeing his Dad on a regular basis and for those visits to be as normal as possible. Meeting in a strange place under strange circumstances, would inevitably have an undesirable effect on his development and mental stability. Children must come first.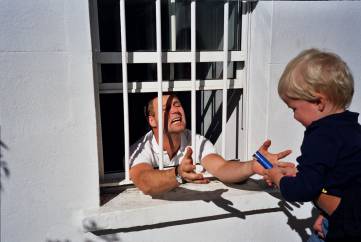 In my own life I have tried as much as possible to keep to the same routines I had before the expose, and in the photo below, I am just about to head out of the front door for work at 8.30 am, exactly the same time that I've left home for the past 10 years. In the past I have also routinely read the paper every evening between 7pm and 8pm whilst listening to the radio, and I continue to do so, although these days, I do have to be careful not to drain the car battery too much.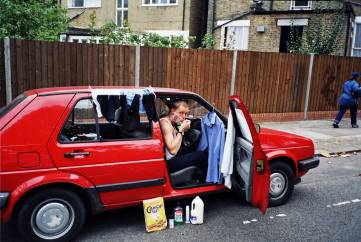 As for the public, they too have been great, I have had several letters of support from all four corners of my local parish, and just hope I can repay their faith in me by banking a biggie and keeping on the straight and narrow.
Obviously there have been a few unpleasant moments, such as the other day when I went shopping in Iceland and a woman shrieked out: "Keep away from my child you paedophileâ€. On looking round I saw a woman of about 35, shielding her little son from me whilst backing away towards the frozen fish cabinets. I suppose I could just have left quietly, but that's not my way, and before I knew it I had shouted back: "Despite every genetic advantage, having a Mum with more whiskers than a stinking catfish, your son isn't actually a barbel, so is in absolutely no danger of being romantically involved with me, you moronâ€. People these days are so ignorant.
The staff at Iceland were a little too forceful in ejecting me from the store, and I'm now shopping at Sainsbury's. With the new Nectar points system they have there, I reckon I'm onto a better deal anyway. Should have moved over to them ages ago.
I have to say, the only time the whole thing really gets to me is when I think of little Tom from the Mavis Bagenderby minibus unveiling. I do hope he didn't take his face on a stick to school with him, as little boys can be terribly cruel. I had thought of recalling all the faces on a stick, so nothing unfortunate would happen to their once proud owners, but the logistics of recalling all three were just too mind boggling, but I do pray for them.
Anyway, enough nonsense, onto the fishing. August is a month I would rather forget fishing wise, being a series of sessions with only the odd small fish coming to my net. The conditions over the past couple of months have been consistently dire in the SE. The fishing has been slow and on the odd occasion when the fish have been on it, there has been nothing to suggest that would be the case. For anglers who fish regularly this means the odd unexpected good session, but for less regular anglers it is a real lottery and unfortunately my numbers have not been up.
In late August I did manage to persuade another friend to accompany me to the River Kennet in pursuit of a barbel, and I'm glad to report this time it was a relative success. I managed one of 9lb 8oz which is below, and my friend managed two, one of 8lb 12oz and one of 7ish. I normally don't photograph fish of this size these days, but I was so sure it was a double I photographed it before weighing. It was completely empty and fooled me. Still, a lovely looking fish all the same.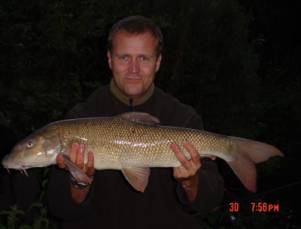 My mate, Matt, was absolutely thrilled to catch his fish and was visibly shaking like a dog having a **** after the first. It's really great to witness such moments, I often spend hours following dogs on our local park, just waiting for them to drop. The following night after we'd been fishing I went to a party, which Matt was also at, and would you Adam and Eve it, he'd brought several A4 photos of himself and his fish. Last I heard you're supposed to bring a bottle to a party, not trophy shots of your PB barbel. It did please my wife, however, to see someone other than me, boring the pants of some poor party guest talking about the thrill of barbel fishing. Welcome to the club Matt.
Matt begged me to put his photo up, so here it is mate… and mine's a lager. Just in case you can't tell from the photo, Matt has a nose you'd be proud to have sitting in the front of your underpants; an absolute whopper! And yes, you've guessed it, the cap hides an expanse of pink, right where he claims his double crown is. This year's double crown is next year's triple!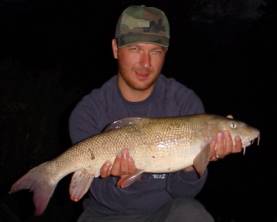 In my last piece I said in September my results would improve, and well wouldn't you know it, I'm now saying October. No seriously, September has been a better month for me.
Early in the month I arranged to meet up with Jon Callan, his Dad and his Dad's mate Allan, for a session on the tidal Trent. I fished the same peg as on my last visit, with Jon his Dad and Allan in the next few swims upstream. I followed the same baiting routine and tactics as last time, only this time with a slightly better result.
As per usual on the tidal, the tips were bouncing around with metronomic regularity as the hordes of bream moved in over my carpet of bait. After several hours of this mesmerizing sight, you wonder if you've become de-sensitised to the sight of the tip pulling round, but at 11.15pm the downstream rod sprung over like a javelin throwers arm and I leapt out of the chair to take control of it. It was a barbel, of that I had no doubt, and after subduing it's initial run, I quickly gained control and shouted out for Jon to come and net it. I knew it was a better fish than on previous visits and when in the net was confident it was a double. She went 10lb 5oz on the scales and was in tip top condition, although I have to say, not the best scrapper I've had on the Trent. Unfortunately that was the only fish of the session for me, but I went home pleased. Jon had a small one in the early hours, Allan found nothing but snags in front of him and Jon's Dad pulled out of a good fish early on. It was hard going.
Normally on long night sessions like these I just sit there staring at the night sky above, wondering whether or not the unravelled epididymis from my scrotum would really manage to cover the surface area of a football pitch, but on this occasion something caused my mind to wander onto subjects less taxing. As darkness fell I could hear a child's voice in the distance accompanied by those of his Mum and Dad and the intermittent yelps of a dog. I listened intently as the little boy questioned his Dad about the day's events, with Mum remaining silent, realising these were questions only Dad could answer to the boy's satisfaction. It was a special exchange between the young curious mind of a boy and the wise father, and I'll never forget watching their silhouettes, rods in hand, make their way back along the top of the Trent embankment to their car singing "Hi ho, hi ho, it's off to work we goâ€. No doubt the little sod got straight home, stuck fireworks in the dog's ears and started looking up filth on his Dad's computer, but for a moment it was beautifully innocent.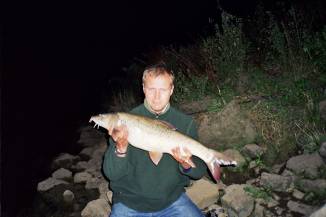 Spurred on by my success in early September on the Trent I made my way back up there again later in the month for a two night session. Although the route up there is now familiar to me, I always get a little excited when I start noticing a wrecked car on the roadside every 100 yards or so, because it's then I realise I'm in Lincolnshire, and only a few miles from my destination. Having smelt the post harvest odour of rotting cabbages and putrefying sprouts, had a big night out in Lincoln, and seen Lincoln City play, I had assumed many of the accidents were caused by people desperate to leave the county, but now I'm not so sure. My father-in-law, a man of previously sound driving abilities has had two accidents since moving to Lincolnshire, both his fault. Perhaps the gases wafting off the rotting fields cause drivers to become light headed and to daydream : one minute the driver is a petrol pump attendant's apprentice in Nottinghamshire, the next he's parked half way up a hedge.
Once again I chose my trusty swim and approached it in identical fashion. Generally, on other rivers I tend to avoid hammering a swim because you are inevitably going to catch the same fish, but on the tidal Trent, I'd be surprised if you ever catch the same fish twice. After having put in many long hours fishing the stretch in question, and eventually finding a swim, which is pretty reliable under certain water conditions, I'm unlikely to be prised away from it easily.
Having driven up after work and arriving at the venue later than usual, I was fishing over my bait only minutes after having droppered it in. I had only been fishing for 40 minutes or so when at 10pm the downstream rod hammered over, the bait-runner screamed, and I frantically grabbed the rod before it disappeared off downriver. The fish instantly stripped yards off the reel, as if I had been set for 3lb line, and I thought I'd hooked a good carp. I gradually made line back on the fish after having screwed the clutch down a little, until that is, it decided enough was enough and sprinted off downstream for another 20 yards. By this time, my mate was alongside me and commented that I was attached to something large and angry. I nodded back at him, trying to remain focussed on the task in hand. After several shorter, but equally powerful runs, I managed to lift the fish in the water and get a look at it. It was a barbel, and a large one at that. Moments later I had her in the net and asked my mate how much she weighed. He said he'd no idea, having never seen a double figure barbel before, but thought it was definitely over 10lbs. I estimated about eleven and a half and on the scales she went a satisfying 12lb 7oz and a new Trent PB for me. I was totally made up, and whistled my way through the rest of the night, until a 12lb 3oz common carp decided to rudely interrupt me, that is. What a night.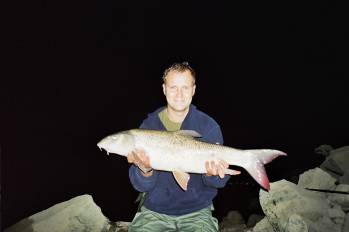 The next night it was back down to earth as I managed to entice a congregation of bream large enough to fill Lincoln Cathedral into my swim, whilst having rain drip off my brolly and down my neck for several hours. Well that's fishing I guess.
After having fished virtually every area on that stretch, and walked it in very low water conditions, I now have it well mapped in my mind, as well as on paper. When the conditions change, I now know where the fish should be, and after having discussed tactics with Jon Callan at length, have a plan in mind, which should ensure more consistent results. Well that's the theory anyway, only time will tell.
The next day I decided to have a complete change of venue and tactics, and headed off to a little back-stream of the River Loddon for an afternoon's roving. All I took with me was a rod, net, bait and a few bits and bobs. Despite the stretch being over a mile long I was the only angler on the bank, on what was a pleasant, sunny Autumn day. I think the fact that the river is difficult to fish due to weed and bank-side vegetation, and is not renowned for monsters, had something to do with it. I thoroughly enjoyed myself creeping around in the undergrowth and even managed to winkle out two little uns and lost another with a hook pull. Pretty good exercise as well, I must have walked several miles during the session. There aren't many venues left in the SE where you can be confident of finding a decent head of smaller fish these days, it's all 8lb plus, as my own results this season bear out.
Over the next few weeks I'll be back on the Trent again, on the Ribble for the first time in a few years (my boyhood river) and on the Severn, as well as my usual rivers closer to home.
Tight Lines
Nick Coulthurst