Super Moderator
Staff member
I know many of you envy my celebrity lifestyle, but what many don't realise is that it is not just an endless stream of minibus unveilings, scones generously covered with Lurpak, and glass after glass of the Vicar's wife's finest elderberry wine, there is a very unglamorous and pressured side to my life as well. Having such a high profile means that I act as a role model to literally tens of youngsters and with that responsibility come hordes of journalists and photographers, just waiting for me to trip up. On August 24th my agent was confronted with a copy of a photograph, which is about to hit the tabloids and throw my world into turmoil. I'm afraid no amount of spin can turn this round and over the next few weeks I will find out exactly who my real friends are. Rather than sit and wait for the tabloids to publish their scoop though, I thought I'd get things out in the open and tell MY STORY, IN MY WORDS, EXCLUSIVELY HERE on BFW!!!!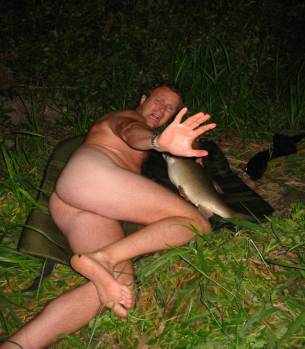 Was it love I hear you all ask, or just plain old lust ? I wish I knew the answer to that one. All I do know is I've let myself down and hurt several people who are very close to me, and for that I apologise. The only good news is that I managed to get my hand up in time to protect both the identity and the dignity of the lady in question. The press don't give a damn who they hurt and it wouldn't have been fair for her 300,007 children to pick up the Sunday paper and see her in a compromising photo like that.
I know it is going to take one hell of a big fish before the memory of that photo is erased from people's minds, but I'm going to bank one if it's the last thing I do. Haven't heard from my sponsors yet but I fear the worst and am expecting lean times ahead. I am already preparing myself by rehearsing the lines "It's a commercial dear, I'm really a very good driver". Let's hope it doesn't come to that. Mind you, it is nice not to have to travel to work !
Now that I have been outed, rather than drop my head and skulk around until I shuffle off this mortal coil, I have decided to stand up and be counted.
I grew up weird, never knew my place, had strange thoughts and an even stranger wish
I wanted to be loved. Loved by a fish
I knew friends and relatives just wouldn't understand
As we walked down the high street pelvic fin in hand
I ignore what people say, it really doesn't matter
My Dad says she's better off without me, or better still in batter
Blondes, brunettes, their beauty simply pales
When compared to the bronze glow from your beautiful scales
But as the day approaches, there's something I must confess
I haven't got a clue where I'm going to buy her dress.
Before anyone writes in to give me stick about the photo, I'd like to state for the record that she was over 16 years of age and was out of water for the minimum time possible – just time enough for a quick kiss and a cuddle. Special thanks go to the photographic genius that is Jon Callan, for capturing my good side (no mean feat) whilst managing to keep down his dinner! OK, OK, enough nonsense, onto the fishing…
I remember when I was younger hearing my Dad say all sorts of things which I vowed/hoped would never leave my lips when I got older; classics such as : "Nice and short round the sides and back please, and a quick polish on top" and "Just put some decent elbow patches on love and that jacket will be good for another 5 years". Although I've still haven't got any Brasso in the bathroom cabinet at home, one thing I said recently which worried me was: "I can't wait to visit the in-laws again". Well it's true, and I can't, because they live near Lincoln, within easy driving distance of the tidal Trent, and it's here that I spent two fantastic nights fishing in late July.
The day before I set off, I prepared a gallon of hemp and birdseed and bagged up 6 pints of assorted pellets. This may seem excessive to some but the tidal has a huge population of hungry bream as well as masses of snails, which can decimate your bait in next to no time. Barbel are greedy fish and on un-pressured waters like the tidal Trent, I like to put down plenty of grub.
On reaching the venue I decided to fish an area where I had caught barbel before, rather than searching out a fresh area. I was delighted to see I was the only angler on the venue, which is amazing given the quality of the fishing. The river was low following a week-long spell of dry weather, but had a tinge of colour and had been freshened up recently by some localised heavy rain. Not enough rain to cause the level to rise much, but enough to drop the temperature to a near-ideal level. I was optimistic. The tide was just on the cusp as I arrived with the river virtually still, making it perfect for putting down a large bed of particles accurately with the bait-dropper. Arduous, but worthwhile work.
I decided to fish over a large bed of particles on the downstream rod and fish the upstream rod on a method feeder laden with pellets. Bait on the upstream rod was pellet and on the downstream rod a boilie. After baiting up I headed off upstream and trickled a few boilies into a possible roving swim for later, just in case I struggled. After that I sat back and admired the scenery until the tide started to run off, and then I cast in.
After about forty minutes the upstream rod signalled some interest with the tip nodding slowly and then dropping back. I lifted into the fish and knew instantly it was a bream, which came to the net like a dog to the bowl. Bream are a nuisance when you're geared up for barbel, and particularly annoying when you have taken steps to try and avoid their capture, like using 21mm pellets. Twenty minutes after the bream, the downstream rod burst into life with a violent pull down and I lifted into a fish which instantly took line. I knew before I picked up the rod it was a barbel, and the screaming clutch confirmed it. After a spirited fight I slipped the net under a fish of about 8lb, a silver torpedo without a mark on it. As with all the Trent fish I have caught, every fin was erect, which is something I rarely see on Kennet fish. I guess the fish on the Kennet are jaded old performers who know every creek on those old boards and have the splinters to prove it. For most of the session there were fish rolling in and around the swim, which kept me focussed throughout. One particular fish head and tailed right over my bait early on and would have looked more at home in Sea World with a ball balanced on the end of its beak. It was enormous. Rest assured I'll be back for Flipper later in the year!
Despite the apparent activity though, I didn't catch anything else that evening, although I did experience yet another scary moment on the deserted banks of the Trent when an owl swooped in on a bat and stopped within a couple of feet of my face. Not sure I could mimic the sound I let out at that particular moment without the aid of a vice. On another dark night last year, I heard a rustle behind me and turned round to see the silhouettes of four large fellas stood with hands in pockets. At first I thought they were tackle rustlers and ******* myself, but the fear quickly disappeared when one of them said in a high pitched voice "Eh up mi duck, haf tha caught owt" or something similar. I nearly fell off my chair.
On the following night I adopted exactly the same tactics, only this time I managed two barbel of 7lb-ish and 8lb-ish on the downstream rod, plus another bream on the upstream rod. Strange thing is there was virtually no surface activity at all the second night. Although I didn't exactly empty the river, I really enjoyed my two sessions on the Trent. You never know what might turn up on a big river like that.
Sometimes it's difficult to quantify what experience has given you as an angler, but as I was sat on the banks of the Trent with bats intermittently banging into my line, I recalled how, many years ago, on the Severn, the bats had given me the smoothest backside in Christendom, such was my constant shifting in my chair every time one hit my lines. These days I instinctively know when a bat has hit the line and the hand and backside remain stationary. Not every time, I admit, but most. Funny thing is though, if you haven't had a fish for a while, your bum gets a little balder again.
Earlier in the month, after a quick call to my mate Jon Callan when he told me he'd had 5 barbel, including two doubles, I decided to make a midweek trip out in pursuit of a fish or two. I decided to fish a familiar swim in the hope of bagging my first double of the season. After about an hour and a half fishing without a touch, I decided to rove to the swim above and lowered a paste bait in the margins. Almost as soon as the bait had reached bottom, the rod top pulled round and went into full compression. It's exciting stuff nailing one under the rod top. The fish gave a good account of itself and when in the net revealed itself as a humpy backed specimen of 9lb 4oz. I then returned to my original swim and sat it out. Just as dusk fell, the inside rod pulled round and I was into a fish. After a slow and dogged fight and several failed attempts at netting the fish, it eventually sat in my weigh sling and pulled the scales round to 10lb 6oz. Result ! Having made a bit of a hash of netting the fish, I decided not to stress it out further and put it back without a photograph. Although my article could well do with a fish or two, fish welfare comes first.
On the rest of my trips out, most of which have been on the Kennet, I have managed one or two fish per session with only one blank, but no red letter days either. Due to the exceptionally hot weather we've had recently, most of my sessions have been in the evenings, but one man who did venture out during the day recently to great effect, was Jon Callan, who bagged a monster of 14lb 4oz. Hats off to you mate, well deserved, and great to hear the excitement in your voice when you called me.
Below is a table showing my results so far this season. Not much to shout about thus far but I've enjoyed myself and I'll be gearing up to more intensive sessions come September onwards.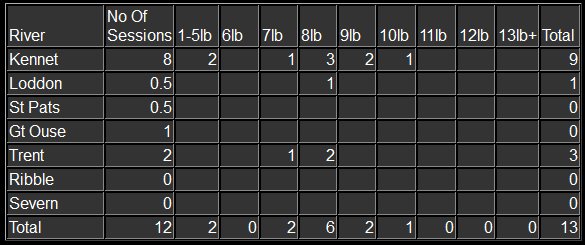 Jon Callan told me my articles need a photo of me with a good fish, so here I am all tanned with a lovely bronze summer beauty of 13lb 1oz (my Kennet PB) caught just last March. Memories are all I have !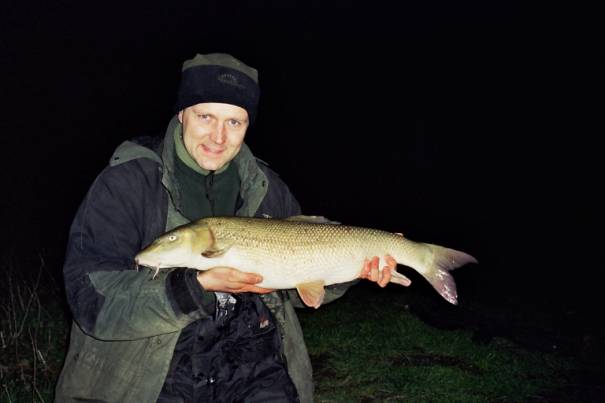 Tight lines all
Nick Coulthurst