Super Moderator
Staff member
BFW fluff-flinging day No.II - Felix Farm, 9th May '03 - a light-hearted report
by paul whiteing
(photos by courtesy mike berridge and yours truly)
We were all looking forward to this day as a bit of fun, as something different during the close season, non-competitive .......
The morning would begin for most at Graham's place. The intrepid norverners Dave (Wingers) & Tony (2 canes - and no wharfe raider in sight) had met with MikeB (biggun), SteveR and John (from 'ull) at some ungodly hour of the day in god's country (so they call it) to come south and arrived near to White Waltham. Being too early to risk Graham being still in his nightie they camped (no pun intended) out in a nearby car-park. Did wingers get lost? yes I'd heard, he did exit from the car-park and went wrong on the way (and it was twice if you include going on the A34 not the A43 on the way home) Looking to get my badge ............ eh Wingers?
Everyone, except Neil H-D who sent an apology (but we'll deal with that later) was going to turn up in their own time and wait for the brekkies.
Just as I got there something was going on and it appeared Graham had suggested some sort of fishy charades. It seemed Mike was sitting on the 'veranda' deck rod in hand, Graham was pretending he was a barbel (I'll be whatever you want me to be - he had said) so a barbel it was, Dick was cowering by the bizzie-lizzies as he didn't like the prospect of role-play I guess. I hope the laughter from such an unruly gathering didn't frighten the neighbours.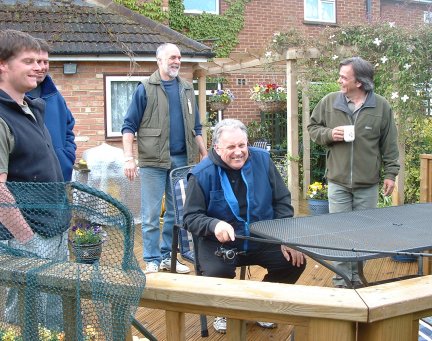 ​
MikeB (and in the background are L-R Rob, Dave, Paul4 and Tony2)
​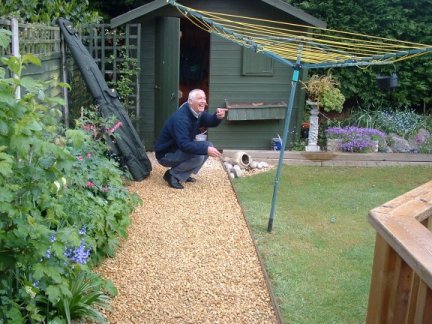 ​
Graham playing the role of the barbel - "missed me" he laughed
​
It was nice to see so many known faces, and good to meet Rob, Brian, Simon and Nick for the first time. Brekkies arrived, and our thanks must go to Graham but mostly to Jane. Not all of us like to indulge in food at such an early hour - but with the norveners about there is little chance of much going to waste.
But now was time to go fishing - not sure who did the washing up, probably Jane I guess, so thanks again.
We got into our cars and made for Felix - nobody wanted to follow Wingers, but I was ok as I had a cabbie as navigator - if I got lost they'd laugh at him. We arrived, and with so many in the group it all got a bit confusing but we all assembled (NOT) for the group photos and then departed for the action. Well, if we'd had had a group photo it would have been like this :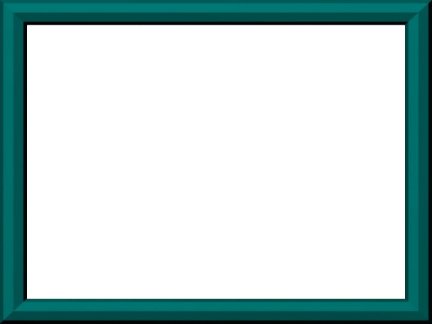 ​
Top L-R : MikeB, James, Paul4, Paul (Severn), Graham, John (from 'ull)
Midd L-R : Gordon, Dick, SteveR, Simon, Dave (Wingers), Tony (2 canes)
Bott L-R : KeithT, Brian, Rob (le blanc), Nick T
Inset : Neil H-D to arrive later
Inset : Jon who may arrive for an hour
​
With not enough boats to go round some did and some went for the bank, we would swap after lunch. Some bank-side tuition was going on, by the owner and Graham too I believe, but all were seeming to get settled. Mike and I were in a boat, we followed Steve and John, Gordon doubled up with Rob, and Paul (Severn) with Simon. There was an intruder on his own in a boat, not one of us, and he had some silly sort of rod as it was bent most of the time. We decided later that if he caught any more we would board him and steal his flies as they were working very well. Difficult to see who was catching what on the bank but I gather that Dick was not exactly pulling them in and probably also wondering what fly the intruder was using. Rob (le blank) had never chucked a fluff before, but he was soon into a fish. I noticed his casting needed a few pointers but what can you say when he got another fish, and then another too - best keep the tips to yourself lest you look an idiot. I had a fish but Mike couldn't buy a bite.
Graham smiled but kept quiet when Mike took to drifting, but it got him a bite and the trout did a full 3ft leap into the air, and deftly spat the fly out before landing, one full somersault with one-and-a-half twists. Who dared to laugh? everyone who saw it. A visiting judge would have awarded 6.0 for execution and for artistic merit.
Wingers was on the bank but moving around. Every time we tried to see who was who and where, we kept seeing this funny hat - it was him.
Now it has to be said that Neil H-D arrived during the morning. Thinking I recognised him at distance I waved and he waved back so we phoned his mobile but it was not switched on - nice one matey. Well, we find out that the previous day was NEIL'S BIRTHDAY and he kept that one quiet. In these days of mobiles surely someone would have been able to spread the joyous news (Mr. Thatcher apparently found out but it was not to be for us to find out). Why did he arrive late? was it a hangover? We could have bought you an extra pint at lunchtime but it was not to be. SO A BELATED HAPPY BIRTHDAY TO YOU Neil - Let us not forget next year my friends!!
You can see from the following few pictures that the day was very nice at this time - not a sign of what was to come.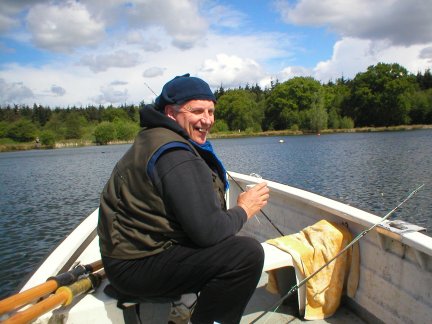 ​
A welcome cuppa - the rod remains unbent
​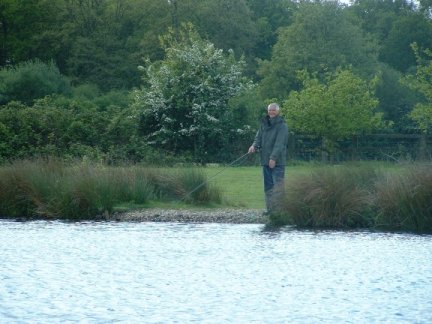 ​
You're dying for a what? Graham
​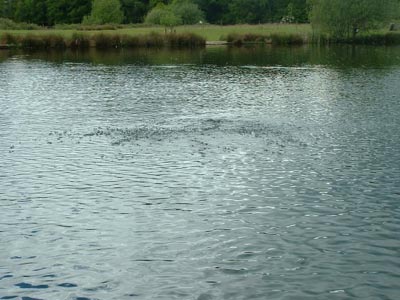 ​
Action shot of leaping trout - missed - thanks Mike
​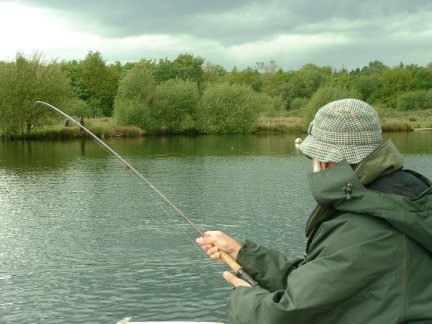 ​
Action shot of playing a beast
​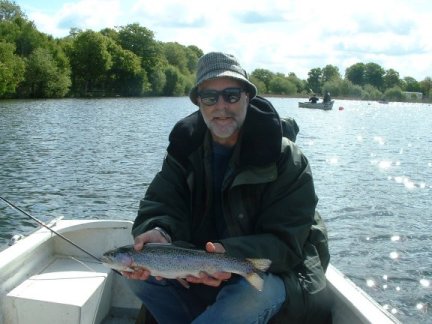 ​
Not such a beast after all, but welcome
​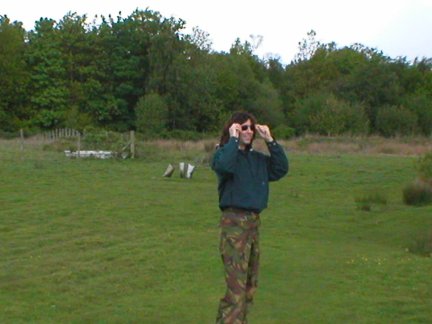 ​
Oh, a camera - hold it I'll get my shades on
​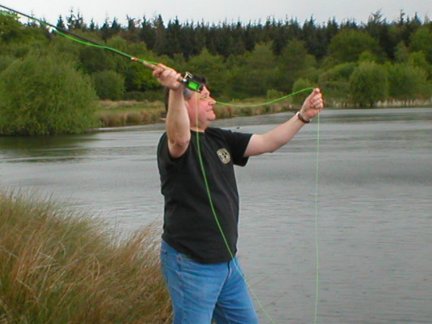 ​
Like my action? - glasses are protecting my forehead - poser
​
Neil did quite well for a beginner, yes seriously. Not exactly following all advice about his wrists and tick-tock (he'll explain - I cannot) but he got the fly in the water enough times to land one fish and lose two (he lost them whilst fumbling for his bait-runner lever no doubt). Tony (2 canes) was obviously revelling in the absence of the wharfe raider and he was thrashing merrily without a thought for the garage door. He had not fluffed for a long while but his action looked pretty good to me - he would regret it though.
Keith was doing well after a break (he said) of 50 years, and his mate Brian who had never fished at all was remarkably still hanging in there. Dave (Wingers) has obviously cast a fly before, Graham's 'unusual' action generates sounds like a pulsating wind-farm turbo but he gets it done (too well at times) and Dick manages just as Dick would.
NickT appeared to have made the transition from static carp-angler well. Now we understand, but this is strictly rumour and would need to be substantiated, that Felix management intervened whilst he was unloading his car, to save embarrassment all round we further understand. It would appear that Nick has had some military background and true to his training he was laying out all his gear before proceeding to the bank. Ticking off his kit in time-honoured fashion he accounted for bivvy, bivvy bed, bivvy chair, bivvy table, bivvy slippers, bivvy pillows (camo), rod-pod, delkims & baitrunners (neither recently seen action). He was continuing as Felix management sent a delegate, who stopped all of this folly as the colour of the boilies Nick was sorting out were not in keeping with the spirit of the day or the venue.
We then decided after a nice morning to retire to the pub, James' pub, for lunch. It was said there would be Pizzas (at which point SteveR and John engaged traction control and went for a good seat) and Pizzas there were - about 16 of them in all flavours and strengths. Jalapino what? took the lining off my throat which might have been kill or cure for me. Thanks James - well not for free but for a very generous price.
What fly? Well it all began last year at this very event. One "Graham Elliott of White Waltham" the principal perpetrator, and "Dick Dowing of the Region of the Kennet" his co-conspirator, did conspire and collude to falsify, mislead and mis-direct fellow fluff-flingers as to the nature and style of the fly which had made some success to their catches on that day. Well in recognition of this it was decided to 'award' and to make the presentations of the trophy and certificates - not something to be proud of in all conscience, be warned. Will they learn - we will see.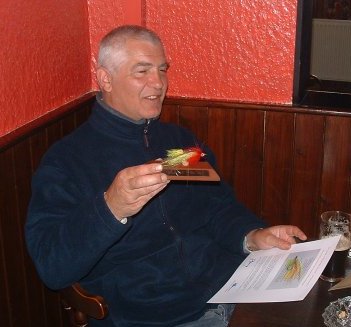 ​
Trophy, and accompaniments
​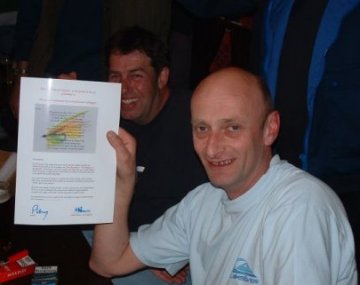 ​
Certificated, at last

If anybody should wish to peruse a copy of the certifications aforementioned
they are obtainable, for a small remuneration, c/o BFW
​
A nice lunch (thanks again to James and his staff), a couple of pints - I have to add at this juncture, however, that it was recorded that a certain Steve Ralph did utter the words "I'm full up, no more for me thanks". These words may yet be immortalised at a future occasion (number 3 my ar*e) - anyway, and so back to the fishing.
Unfortunately as we were all making our preparations back at Felix it was noticed that Rob had not re-appeared, sorry not to have said goodbye, and that Neil H-D had made his exit too - on the back of a lame excuse of it being his son's birthday. Goodbye - phoooo! What is it with the H-Ds and birthdays??
Well, some of those on the bank in the morning took to the boats and all others proceeded round the bank. At this point it became apparent that the bank might be the better place judging by the sky, but all was not clear, yet
Dick and Graham moored up, Tony and Wingers paired up, and SteveR and John decided as all boats were not taken that they would have another go. Mike and I made for the far sides and others were strung out along the bank. At this point it became quite noticeable that Simon was a flinger of some note, and I'm sure he even had to curtail his action so as not to fish on the far side of some of the boaters - done it before methinks (yes, he said, a bit - in South Africa. I suppose you need to cast well to get past the wildebeasts)
Dick's style from a boat is in marked contrast to that he uses bankside. He calls it specimen hunting - I call it legering. Well, true to form he caught - as he would. Shame he's a nice bloke as we could have a right go at him. Graham catches his share too - well he catches some of our share as well. AND THEY STILL WOULDN'T SAY WHAT FLY. Come-uppance was on the horizon and the day was on the turn...........................
JonC arrived 'fresh' from work and came to have a chat. He wasn't going to get away without a bit of fishing so he borrowed first my rod, as I gave him some tuition, and later one of Mike's so he could fling away on his own. This lad is an accomplished barbeller of some renown but he has a wrist as stiff as a soggy kipper. I had to resort to the large elastic band on the arm trick, tying his arm and wrist to make immoveable - improved but needed some practice. It was going quite well and we had a shower - a small shower but the sky went a bit dark. Jon, Mike and I decided to retreat our gear to the shelter of some trees but that was not ideal as some thunder was heard nearby. Not sure where NickT was but it might be that his bivvy was being prepared perhaps?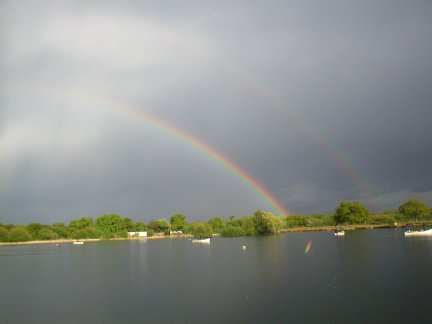 ​
After the first shower
​
We fished on but there was another shower, a tad heavier, now with some thunder and lightning. SteveR and John rowed at 30 knots towards the shore, not scared just need a pee they said - yeah, right. Dick and Graham braved it out. Couldn't see much else as we made our preparations for being wetted upon again
Then it improved and we fished on, but Jon's action had deteriorated in the short interval and was a sight for sore eyes. Were my eyes running with water from above, or should I not have been laughing? I know what I'm doing wrong he said but gracefully demonstrated a consistency for tidying up - the line in a neat pile before him. I jest too much - I'll get him casting reasonably at another time. And then there was another shower.............................
a tad heavier still, with some more thunder and lightning, and it became darker and darker...........................
and the rain was now white, and big, and it hurt any exposed bits. Hearing Dick yelp we wondered if he was in to a fish, picking up his legered lure from the bottom whilst he observed the rod-tip for tell-tale indications, but no. It were yelps of pain as the hailstones bounced off his hatless head within his jacket's hood.
This time SteveR and John lit the afterburners on their boat and rowed at 50 knots towards the shore. Scared? too right. They sheltered with us near the trees - observing all the rules of survival us adult outdoorsmen knew when lightning was about. and still Graham and Dick sat out in the middle - no doubt hatching another theory about bite detection. If the lightning had liked Dick's rod (excuse the innuendo - unintended) then "Quivering Blue Jeans" would have been about right. Sitting in an inch of hailstones, rapidly melting and giving each (so they said later) a soggy bum - beware, both of you, of a visit from Farmer Giles in the near future.
Again SteveR turned down some food, this time a cheese roll - I must get the flying doctor to visit next time he's going up-and-under the Humber.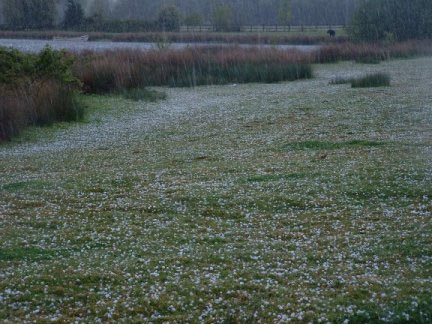 ​
Is this really May?
​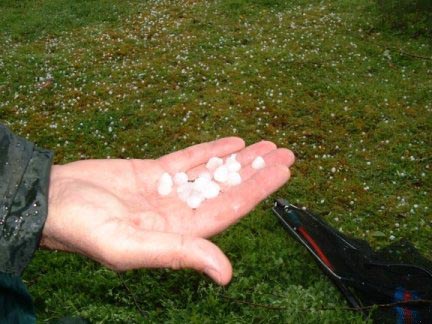 ​
These can hurt - ask Dick
​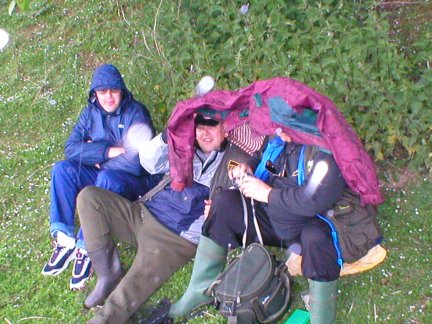 ​
Sharing shelter with your mates - sorry John
​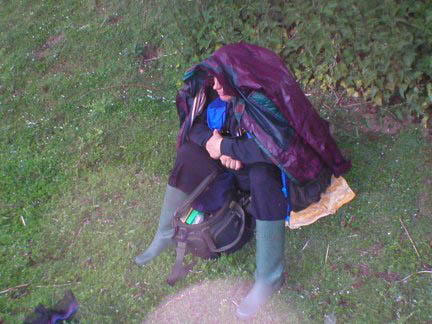 ​
Will it ever stop?
​
anyway, to continue........not much left to say as the weather messed the day and some had drifted home. Those who were still there decided to call it a day too and we all made our way back to the hut to weigh-in, record our catches and pack our sodden gear away. At least I only had an hour to drive - some going to god's country, too far, get him to move.
There remains just a thought that there should be some prizes awarded - if only notionally. These are my opinions, some may be shared, some may be denied :
These are in no particular order or excellence or desirability :
Brian For being the bravest - having never fished before at all (almost)

Rob (le blank) For being the best rookie

Dave (Wingers) For having the worst hat - and a half-decent casting action

Gordon For the most vigorous casting action - almost threw himself after the fly

Simon For having the furthest cast - and for denying the biggun a view of the 'twin-peaks'

Mike (biggun) For having the biggest and most useless set of flies

Neil H-D For keeping his birthday mum and thereby denying his mates

Graham For his organisational skills - and for being the best pretend barbel

John ('ull) For endeavour in the face of adversity (and SteveR)

Paul (Severn) For having the best shades - and knowing when to wear them

NickT For finally denouncing c**p fishing as a no-no

Jon For having the limpest wrist

Keith For having the biggest (beach) hat

James For lunch

Tony (2 canes) For going home with someones elses arm attached

Dick For not turning a hair in the storm (hair?)

SteveR For turning down food - TWICE

Paul4 For not getting lost - until the way home, just a bit.
Apologies must again go to those whose action goes unrecorded in word and in picture. It is a fact that when fishing from boats only the most immediate action is seen and lots goes unnoticed. Also it is fact that when it is pi**ing down, thundering, lightnin'ing and hailing there were not a lot of digital cameras to be seen - in fact only two and they were in the same boat. Also-also there is a limit to the chat that can go on as it is observed that talking or calling across water is not the best 'behaviour' and thankfully respected, although as we had the place to ourselves we could have.
Who caught what? Well some caught a lot, some caught a few, some caught none - but I bet everybody had a great day. I've already got my ticket booked for BFWFF'04.
Stuff the grammar - written in jest and grammed in jest too
paul (paul4barbus) whiteing
may '03