Super Moderator
Staff member
BFW Loddon Fish-In 2007 – Oldies v Kiddiwinks

By Graham Elliott​
The competitive edge to the Challenge issued on BFW seemed to strike a chord with the regulars on the website and in a very short time the number of barbel anglers that wanted to join in the fun multiplied to such an extent that a venue that would not only accommodate us all but give a realistic chance of some fish was the problem that needed solving.
Our previous excursions to the River Loddon had been really tough fishing, not least because one of them was met with sleet the size of golfballs as we fished! However, I decided to try again and see if the river would give up some of its golden beauties. Dinton Pastures was chosen, a good venue with pegs for us all and a pretty environment, some wild life (more of that later!) with space on the bank for overnighters.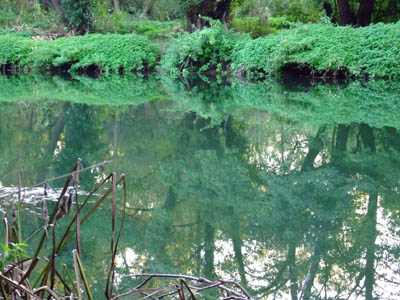 The beautiful river Loddon​
Typically a number of pre-fishing web posts carried with them plenty of references to how much help the oldies would need with Zimmer frame swims and panty pads etc. The Oldies retaliated with comments about Dummy suckers and nappy rash!
On and on the posts and views mounted as the 15th September fishing day drew nearer, the challenge being firmly…ON!
Hopes were raised when a few day early starters recorded 3 barbel to the three anglers, two for John (Horsesnipples) and a fine fish over the magic 10lb to Eric (whatablanker)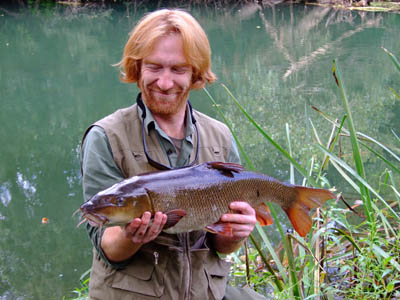 Eric with his Loddon double
​
They were joined overnight by the Welsh contingent, complete with Dolly. And of course, they decided that some practice was needed…..down the pub. Big mistake by Rayo, who spent the next 2 days with a generous hangover. In fact you could say the Oldies were fishing one short. Great fun in the pub, especially when we discovered that the "Super Deal†on accommodation by the Yorkie Boys, Tony2canes, Ian Hobkirk and Fred, meant a whopping £60 roundtrip taxi ride to the pub!
A real cosmopolitan pub that night with many strange dialects, Norfolk coming in first with that nearest to British. (part of the English colonial holdings)
Meanwhile, over the past 3 hours John Walker had managed to unload his tackle from the Van, after checking that his beer stocks in it were still cold, frequently)
Rayo, meanwhile was on his 15th pint (judging by the outcome)
Back at the overnight camp the two BFW Andy's along with Kevin had arrived. True or not, it was said that Kevins chilli "special†needed thickening, and after a short debate Activ8 did the trick, along with a small amount of flavour enhancer, Monster Crab. The Guys were very late rising the next morning, and nearly missed the peg draw. Then again it might have been the affects of the Mike Wilson Pyramid system of baiting up, this time evident in the beer can collection pile.
The Fishing Day
Bright sunshine, low clearish water, fine for a bit of spotting and stalking but pretty hopeless for a pegged challenge match! I wondered if we would see a single barbel on the bank.
Bright and early on the bridge, bleary eyes and grunts from the overnighters. The draw was made, for the few that had made it to the designated area. The majority were still in the car park; awaiting the kettle whistles to signal, Brew up! Keith (Zanderman) was overseeing young Wilson, who had by now blended perfectly into the background trees in his camo 8 piece fishing apparel. A crowd has drawn up, immersed in the skilled technique applied to making a cuppa.
Tony and the Yorkies arrived, knees trembling from the rally driving exploits of Fred Bonney, Ian Hobkirk wondering if he should have spent another £60 on taxis.
And so the actual fishing began, smiling faces, back chat, abuse and the kiddiwinks camo dummies forgotten.
Some swims were classed as hard, others as bloody impossible and some reserved for the organisers. (Yes, a joke!) Rayo, wandered about, as if lost, Dolly forgotten.
Your Organiser bank-walked around, chatting to all and sundry, as organisers, realising there is no chance of actually catching anything, do.
Mark, who had helped so much with all the financial bits, lazed under a tree lined bank, listening to the bombardment from nearby swims as Wayne and Paul raised the river level by 6 inches. Having to account for all the funds meant he could only afford half a worm as bait, and that borrowed from Stroller - Dave Durrant.
The 'phone rang….â€Ive got a lump, Graham†from Simon MacCalla.
Just 20 mins fishing, Can it be true? I hurried downstream to have a look. A lump it was and a fantastic net busting 14.4. (Mental note of swim and the fact that this fish could do 16lb!)
A crowd had gathered and most had never seen a fish of that size, especially Simon who had beaten his p.b. by around 3lb!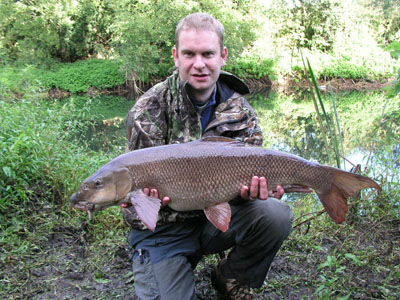 Simon with a stunning 14lb 4oz Loddon barbel - oops sorry, image has swum away​
What a start to the match, especially if you were a Kiddiwink. 10points on the board.
Rumour has it that John Walker hooked and lost a barbus. Despair for the oldies.
Over the next few hours, the level of optimism as the word got around, dropped as no more fish were seen or caught. A good time to visit the café for a buttie and a cuppa or walk the bank chatting to the assorted anglers and exchange a bit of banter.
I had a great chat with Alan Oliver (4spoke) about his fantastic last season on the Loddon and the Pats, he had a cracking looking swim, and when he revealed it was his 50th birthday and he leaving at 2pm, I made a note of the peg Number! His eyes certainly aren't 50 as he spotted me rummaging through his tackle box to smell some of his "blue cheeser" baits.Mike King also provided a great period of education and discussion whilst returning to the 50's (year not age)and fishing with an arseley bomb and single maggot. He later caught a cracking perch.Meanwhile Wayne and Paul walked the bank, not many realising that here were two excellent anglers having last season managed Barbel over 17lb each from the Loddon. Today was as hard for them as all of us.
Paul Garner shuffled along for a chat, great angler that he was he spent most of the day concentrating and fully focused on catching. Many of the anglers sat all day on their rods, hoping unsuccessfully for that important bite.
There was a real cause for concern now. Eric (who had caught the double the previous day) had been led into a serious celebration that night, and he was nowhere to be found. Rumours abounded. He had slept for 17 hours and then gone home. He had wandered off with one of the Café Girls. More worryingly, had he fallen in last night?
We decided to allow 20 points to anyone that hooked him.
As we slipped into slumber, Tony2canes had managed a couple of chub "over 2 pounds†adding 4 points to the oldies total of nil. But………………….
That tap dancing, womanising, young looking Ian Hobkirk had a surprise for us.
He had finally persuaded a cracking barbel of 10.15 to take his bait. Having watched it for some time from his elevated position, he finally managed it to connect with it and add a further 10 points to the Oldies total. Pressure was now on the kiddiwinks and the oldies had a whip round in case new nappies were needed.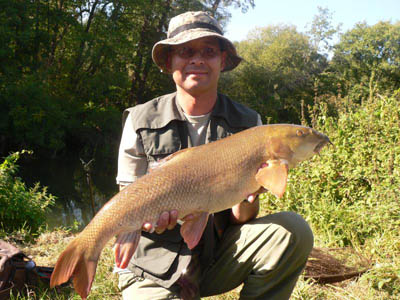 Ian Hobkirk with a 10lb 15oz barbel that looked more like a 12!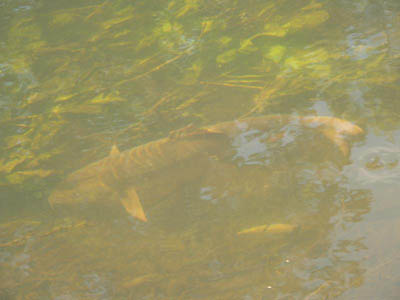 Ian's fish returned safely​
Now, we come to debate. John (horsenipples) decided to have a wander and managed a 10.5 barbel on an unpegged swim. Being a Kiddiwink, and being the sole arbitrator of the points system I decided to take firm and positive action. I delayed making a ruling until the match had finished!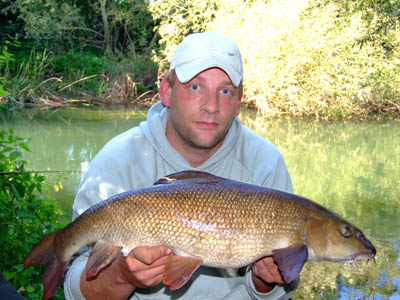 John with his Loddon double​
Meanwhile Keith (Zanderman) continued to use up the best part of a new car in maggot value whilst trotting his swim and catching a number of silvers, the chub just not quite making the grade until one came out at around 3lb adding to the Oldies total.
Oldies 16 Kiddiwinks 20 (maybe 10)
Just below him sat a smiling Chris Netto, as the maggots tumbled through his swim from the ever trying Keith, who by now had a number of admirers. Their encouragement varied from - "Do you need an alarm on that float†to "that low branch across the other bank looks like a Christmas treeâ€.
Further up the bank near the top section, a debate raged. Was it or wasn't it.
A large snake had decided to join in the fun, causing a few anglers to vacate their swims. At the moment the sunning asp was an adder (50%) wasn't an adder but a grassnake (50%) John Walker took the brunt of the comments with gems such as "anything to change your swim!â€
Meanwhile I popped in below Steve Williams (Scuba), being a Kiddiwink, I had heard he reckoned some barbel were in his swim, I decided to help with a few of his special feeders splashed in just below where he sat! He rewarded me later with some of his homemade swimfeeders…with holes in!
The finish time of the event was to be decided by the sole arbitrator, so………when the message came that not only had oldie Chris Netto managed a 4lb chub but also a magnificent 13.2 p.b. fat as butter, golden barbel, the whistle went. The score was 28 –20 (generous) to, of course, the Oldies.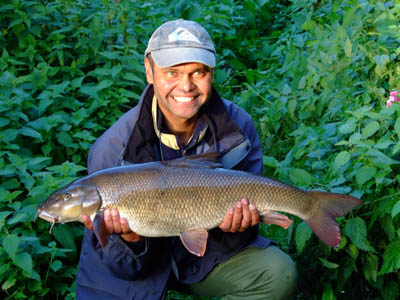 Chris with his new PB of 13lb 2oz​
Meanwhile Chris's smiling face lit up a hard BFW Fish, with few, but fantastic fish caught.
The real winners were the participants, catch or not, everyone had a great fun filled time, washed down later in the pub. It captured the imagination of BFW with over 19,000 views and over 600 postings. It also captured the Spirit of BFW and its members.
Next Year………………………I'm thinking an over night 2 day Thames BFW Oldies/Kiddiwinks rematch.
Good fishing
Graham