Super Moderator
Staff member
Sunday 22th May, Willington Trout Fishery, Derbyshire.​
Photos collected, selected and edited by Mike Berridge
The great day arrived at last, with much promise of mixed weather, old friendships to be re-kindled, new ones to be forged, fish (possibly) to be caught but above all the promise of good banter to be indulged in!
Myself and Kevin O' Sullivan (Kevos1) travelled down together in my shiny new car from Liverpool. We were both eagerly anticipating the day, little dreaming that 3 days later our enjoyment of this day would be eclipsed by the agony and the ecstasy of the Champions League Final (had to get that in!) Kev regaled me with tales of Wayne Rooney's schooldays as he had taught him in secondary school and managed the school football team that Wayne played in! Much of the information relayed is too sensitive to be retold here but suffice to say my opinion of Mr Rooney remains unaltered!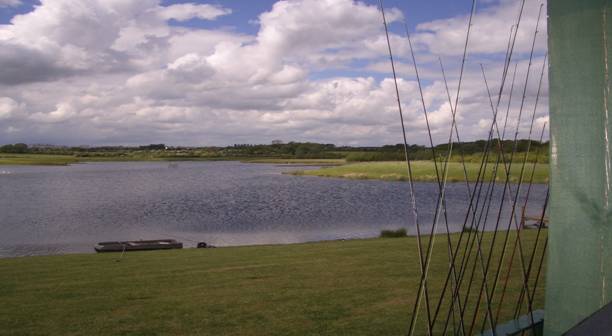 The journey was pleasant, uneventful and straightforward and we arrived half an hour ahead of schedule. Ah, if only the same could be said for Mike (Biggun) Berridge and Tony (barbel revisited) Smith who both conspired to get lost - Tony more comprehensively than Mike it transpired. Mike was probably hoping fervently that Tony would stay lost due to this being payoff day for "that shirt" wager! Indeed Tony, God love him, was actually phoning Mike for directions and Biggun was alleged to have said something like "Turn left after The Angel of The North" or words to that effect!
"Willington Trout Fishery"
On arriving at the Willington Fishery lodge we were met with a homely building resplendent with log fire, coffees laced with strong, warming stuff and lots of friendly, slightly puzzled faces scanning each new arrival for clues as to their identity. Some of the faces were recognisable from BFW photos - Andy Davies (who said I was a cheeky b*****d for asking him to bring me 2 buckets of Elips pellets to the event to save the postage) Cahal (Morston) Daly, Chris (Seepee) Pearson and Graham ("I am a really big fan of Wychwood barbel rods") Elliott. Others needed the addition of the laminated name tags, thoughtfully provided by our hosts the RATS, before recognition, handshakes and broad smiles were forthcoming. Mr Paul Whiteing (paul4barbus), that doyen of the fly rod, could not be with us due to a painful shoulder complaint and Tony2Canes was too ill to make the trip. So the stage was set, the players assembled, the weather looked perfect and hopes were high.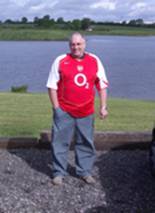 "Biggun"
The curtain raiser to the day was to be the wearing of the Arsenal shirt by the disconsolate Biggun for losing the bet with Tony that their respective teams would finish above each other in the Premiership. Mike, sporting new cropped hairstyle, paced anxiously as Tony's arrival drew nearer. When the said Mr Smith arrived, suffering mightily from a hangover incidentally, the shirt was duly produced and Mike, being the big man that he is, put it on to raucous cheers! Doesn't he look a picture in it? He wore it for the rest of the day prompting people to reflect on a possible change of loyalties from Manciness to Goonerism (well his team did win NOTHING this season!)
​
Our hosts for the day, the RATS, (Cahal and Dave Wingfield) proceeded to relieve people of money for food, etc and with the prospect of Steve (eelfisher) arriving on crutches at lunchtime, breakfast butties were devoured, fishing tickets purchased and anglers told the rules by jovial fishery owner Mark. Flies were discussed and purchased either from the shop or from Cahal and myself who had tied batches up for sale, with the proceeds from ours going to the McMillan Nurses, the chosen charity for the day's proceeds. Anglers then tackled up and dispersed to various parts of this very picturesque, gin-clear, ex-gravel pit lake. With instructions to return for a barbecue on hearing the hooter ringing in our ears, we dispersed to the four winds. Kev, myself, Biggun, Steve Ralph and Steve's brother-in-law Charlie all headed for a promising looking promontory, but unfortunately travelled four times further than we had to due to some silly sod (red face for yours truly) ignoring a well worn short-cut and leading everyone round the edge of a large bay!.
Kev had the first fish, a beautifully marked brownie, I had the second, a feisty rainbow that parted company with my fly on the way to the net to howls of derision and abuse from my fellow anglers! Steve Ralph, for reasons best known to himself, decided it would be a good idea to part company with a particularly solid, stable bit of bank and attempt to fall in, unaided. He chickened out at the last minute and to various expletives, guffaws and wind milling of arms he maintained his grip on terra firma! We observed rods bending into fish at various parts of the morning and moved swims a couple of times. On passing the lodge on one early move we observed Keith (keitht2) Truscott fishing from a boat jetty. At any given part of the day after that, Keith could be seen steadfastly fishing from the same jetty, like Patience on her Monument. He had his spot and he wasn't going to be parted from it!
A particularly heavy shower in the early afternoon had people scuttling for the lodge verandah where more acquaintances were made and faces put to names. Well known Scouse-basher Gary (bbking) Staddon was identified, as was Mark (wishbonefish) Nicholls, Ian (Burmese Barbeler) Hobkirk, Roger (Hinkleydealer), Paul (Tigersman) Hayes, Chris (Felix333) Netto, and Steve, (scubasteve) Williams, Keith "Sainsbury's" Mountain to name but a few more of the 24 who attended.
At this point mention must be made of Chris Netto who neatly combined tragedy and comedy in one package. He set out to fish with a six-piece travelling rod and ended up travelling back with a five piece! He had managed to cast the top section off his rod and propel it, William Tell like, toward the horizon like a crossbow bolt!. The first question anyone asked (after wiping tears of mirth from eyes) "Why didn't the fly or flies stop it?" Unless Chris, unbeknown to the rest of us, was employing a stalking tactic so subtle that to avoid spooking the trout he wasn't using flies at all! After the event Scubasteve obtained permission to dive at the lake, later in the week, and to look for Chris' rod top, but couldn't go as he filled his Discovery with the wrong fuel - the rod trip tragedy was fast descending into farce! A postscript to the incident is that Steve did later complete a dive at Willington but failed to find the rod tip, although he did see some very big trout lurking around the island out of casting range. Probably not out of range of the Exocet missile that was Chris Netto's rod tip though!
Steve (eelfisher) had by now arrived, dragging his broken leg on crutches, accompanied by his lovely wife, Erica and their eldest daughter, Lisa. Steve then added his voice to theto the critics gallery who were whiling away time watching the row of anglers (including myself) fishing from the lodge shore to various comments, cheers or hoots of derision depending on their good fortune (or lack thereof). Graham Elliott hooked into a rainbow trout and then proceeded to "play" the fish in rather cavalier fashion, whilst turning and talking to his admiring public. Needless to say the trout was not impressed and disengaged itself from his hook before the act of netting to cries of "Oh dear, Graham" and "What a shame!" from the critics in the Gods. In the meantime, yours truly, on observing what flies were hatching and how fish were taking them, had switched flies and put on a good old-fashioned Invicta wet fly. I then proceeded to "winkle out" 3 brown trout in the space of about 20 minutes. The first was a really beautiful fish of around 2lb, which I wanted photographed. Gary duly obliged with his Super-Duper techno-digital SLR which lost battery power in mid-focus! By the time he had finished faffing around with it the fish had to be revived in the water having nearly expired, with a fixed "Cheese" on its lips, while David Bailey Junior was setting up his shoot! With photographers like Gary around it's no wonder those supermodels are built like one of Tony2's rods - it's malnutrition!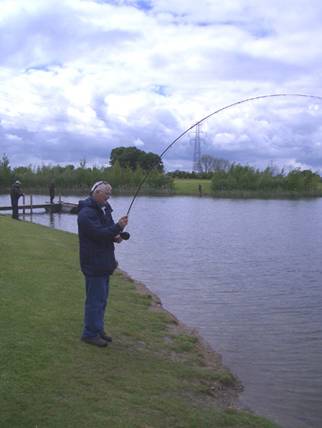 "The Silver Fox"
​
The hooter sounded and a splendid barbecue, cooked by our consummate chef Ralph on the lodge verandah, was consumed and washed down with ales of distinction provided by Cahal, (who seems to have some sort of affinity to beer!!!) The food, drink, company and setting was superb and great credit must be given to the RATS for the organisation of the day. The hat got passed around for the McMillan Nurses and came back very full indeed!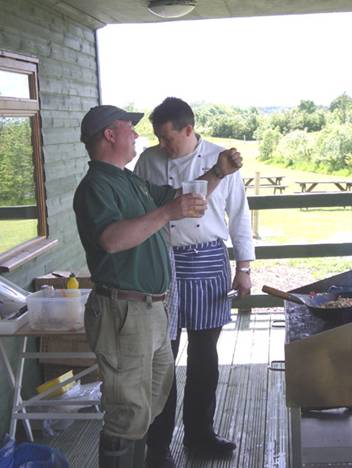 "Mark the owner and Ralph, our chef"
​
Before the start of the afternoon session, the traditional group photo was set up, and taken, by Mark, the fishery owner.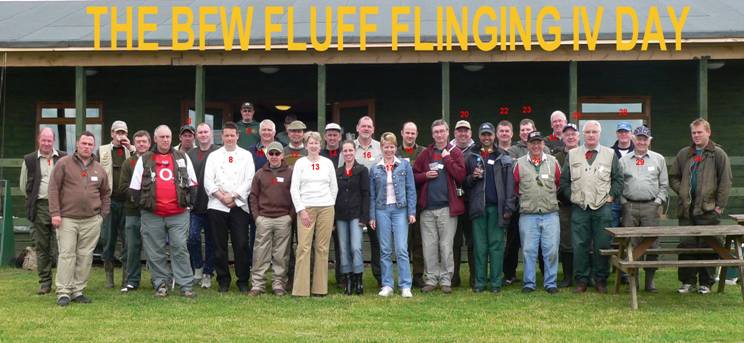 1)Gary (bbking) Staddon, 2)Andy Davies, 3)Roger (Hinckleydealer), 4)Keith "Sainsburys" Mountain, 5)Mike (Barbule) Berridge,

6)Dave Wingfield, 7)Steve (eelfisher) Richardson, 8)Ralph (chef), 9)Enrico (Willington staff), 10)Graham Elliott, 11)Andy C,

12)Ian (Burmese Barbeler) Hobkirk, 13)Kate Daly, 14)Kevin (kevos1) O' Sullivan, 15)Lisa Thorpe, 16)Paul Swift, 17)Erica Richardson,

18)Steve (scubasteve) Williams, 19)Cahal (Morston) Daly, 20)Chris (Seepee) Pearson, 21)Chris (Felix333) Netto,

22)Mark (Wishbonefish) Nicholls, 23)Steve Ralph, 24)Paul (Tigersman) Hayes, 25)John Milnes, 26)Keith (Keitht2) Truscott,

27)Bernard, 28)Charlie, 29)Andy's Dad, 30)Tony (barbel revisited) Smith.
​
So the afternoon got under way with anglers going out to try their luck once more. The picket line of fishermen, (whose idea of a long walk is presumably a trip to the toilet), was by now firmly established at the foot of the lodge bank. To be fair this was the area in which fish were most frequently seen to be moving. The rest of us traipsed off to various parts of the lake, passing the Keitht2 (Trussers) moving, memorial monument still firmly fixed to the boat jetty.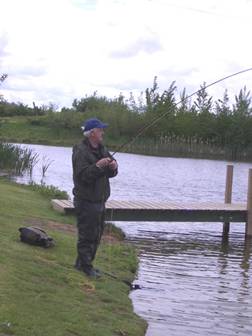 "Trussers"
​
The afternoon passed fishless for me. Biggun got one towards his wildly optimistic four fish limit and Tony struggled with the effects of a blinding hangover to eventually net one for himself. The two Gooners had now become inseparable!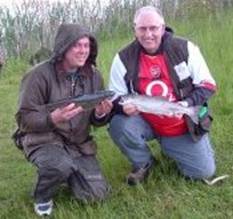 "The Gooners"
​
As the afternoon drew on towards Raffle Time I found myself back on the Lodge shore fishing between Roger (Hinckleydealer) and Chris (Seepee). Chris was bemoaning the fact that the fish were rising a couple of yards further than he could cast and sticking 2 fins up at him, when one (a veritable David Blunkett of a fish) took his fly, to loud cheers from the gallery. The fight was short lived and the air blue when the trout in question straightened the hook on the way to the net. Chris, seeing his one opportunity of piscatorial glory swim off smugly, was understandably a trifle miffed and let us all know about it! Shortly after that I hooked into a nice rainbow to more cheers from the gallery and lost it when trying to play it too hard to prevent it running into Roger's swim. Cue for more hoots of derision from the merciless, guillotine-watching harridans on the verandah!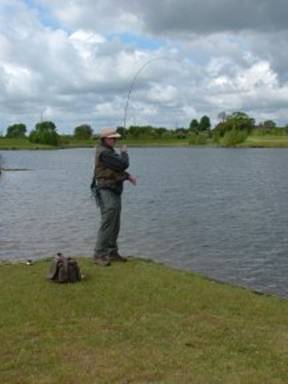 "Scouser"
​
So the afternoon drew to a rosy close and we all assembled in the lodge for the grand raffle, which contained some excellent prizes including a signed Fred Crouch book, a rugby ball signed by the Leicester Tigers team, a day's fishing with the RATS on the Trent and Derwent and lots of wine, spirits and fishing tackle all generously donated by the BFW members present and the fishery owner Mark. Kate, (Cahal's wife and better half) Erica and Lisa performed the selling of the raffle tickets all afternoon and even had to make up new strips, by hand, after selling out of the tickets provided due to the resounding generosity of all those present. The proceeds included sales to some of the members of the fishery staff who were in attendance.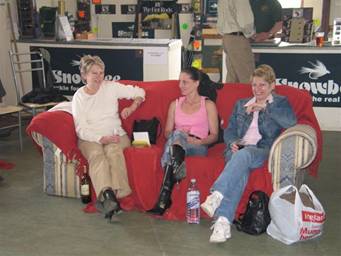 "The Raffle Queens - Kate, Lisa and Erica"
​
My memory will not stretch to all the prizes won, but I pocketed the day's fishing with the RATS to my great delight, young John (a lad of about 12 or 13) from the fishery won some women's lingerie to everyone's great delight, Mark Wishbonefish won a bunch of leads that threatened to wreck his car's suspension, Biggun won (amongst other things) a cordless mouse, Ian Hobkirk won the signed "Tigers" rugby ball and Erica Richardson won the coveted Fred Crouch signed first edition. Andy Davies took the photos of the winners....
Dave Wingfield presents raffle prizes to :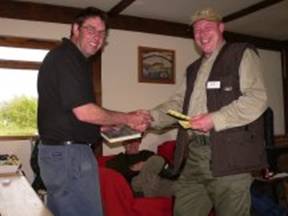 Bbking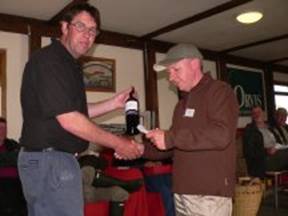 AndyC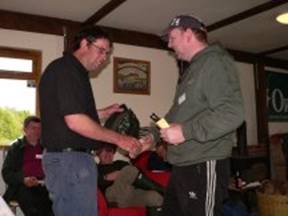 Steve Ralph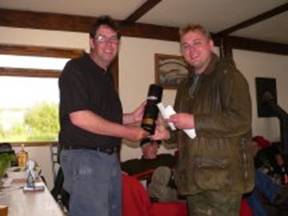 barbel revisited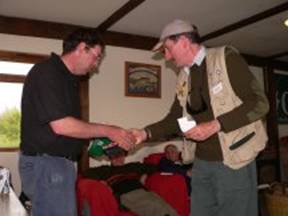 Hinkleydealer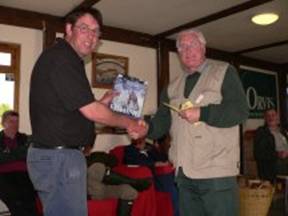 Bernard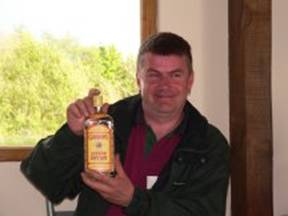 Wishbonefish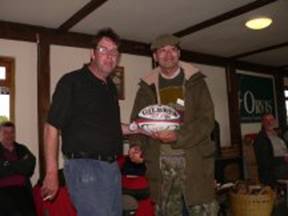 Ian Hobkirk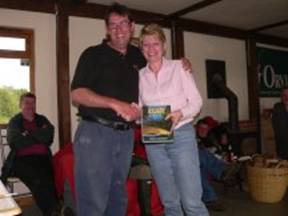 Erica Richardson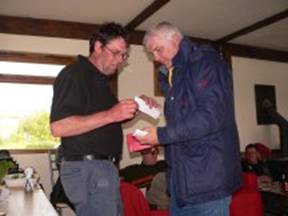 Graham Elliott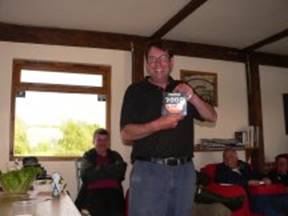 And lastly to - Himself!!!
​
Graham Elliot, the originator, and usual organiser of the BFW Annual Fluff Fling, gave a speech and thanked everyone, especially the RATS, for making the day such a resounding success. At the final tally approx £270+ was raised for the McMillan Nurses which was made up to £300 by Grahams guiding business "Angling Experiences."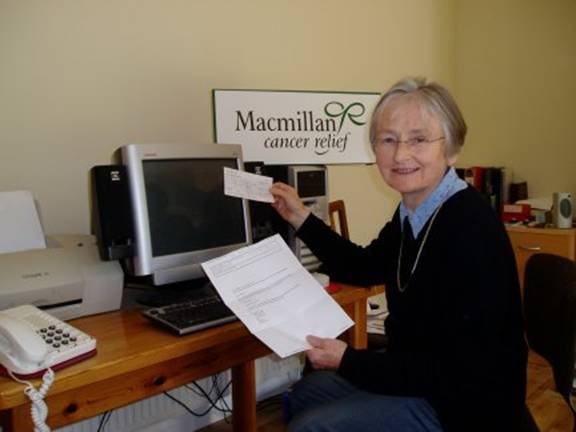 Steve, Dave and Cahal offered to organise and stage next year's Fluff Fling at the same venue, to a chorus of general approval. The day ended at approx 6.45. Some people went to have a few "last chucks" before going home, most ambled off to cars chatting on the way and making dates for future rendezvous. For myself, a member of BFW only since last October, it had been a wonderful day. I had met some genuinely great people, had a good laugh and enjoyed my fishing. I don't think anyone had anything other than praise for the RATS, the venue, the catering and for the day's arrangements. With the barbel fish-ins for 2005 still to come it must be said that BFW is the place to be. I would recommend anyone to go to Willington for a day's fly fishing, but be respectful as you pass the white haired gent fishing from the left hand boat jetty, malnourished, sunstruck and covered in bird cr*p - Trussers is single-minded in his pursuit of the wily trout!
Additional Gallery Pictures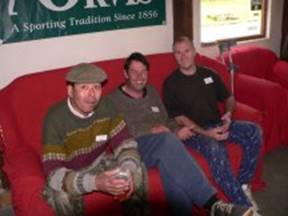 Hobby, Wingers and the eel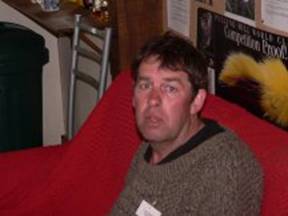 Wingers (it had been a very long day)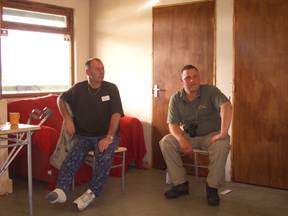 Steve and Andy Davies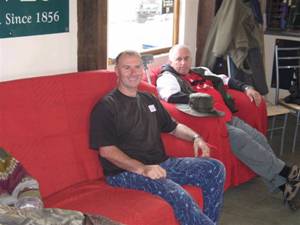 Biggun thinks "Why is Steve sitting under a sign with my date of birth on it?"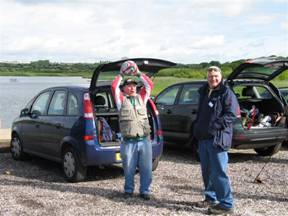 Tigersman & Graham Elliott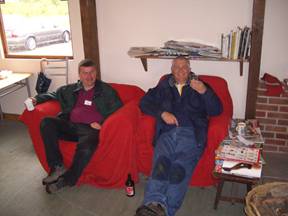 Wishbonefish and Graham Elliott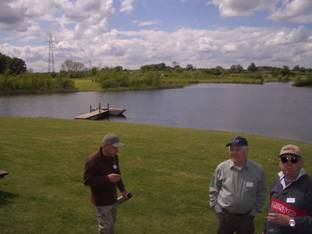 Andyc, Andy's Dad and Seepee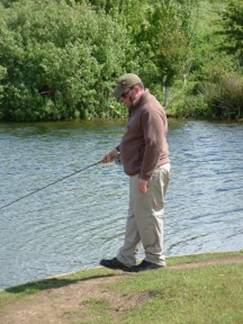 Doctor Davies is not quite sure of this flyfishing malarkey
​
Paul Swift 13.06.05