Super Moderator
Staff member
BFW Fish-in On The Royalty, 8th - 9th December 2001

By Andy Davies​
The fish in started for me on the Friday. I had to take Liz to her parents in Coventry on the way to Salisbury, which made the journey about 4 hrs. I had arranged to stay here with a mate who was going to join us on Saturday. It was not a bad trip but the interesting thing was the number of Barbel rivers I crossed. First was the Great Ouse followed by the Cherwell, Evenlode, Thames, Kennet and eventually the Hants Avon – this made the journey a bit better as I thought about all the fish I had passed.
Once the tackle was sorted on Friday night, it was down the pub for a few pints (where we bumped into Phil off time team!) and then into town for a Mexican. After that I was a little worse for wear on Saturday morning but I still didn't require the alarm call at 6.30am! After some breakfast we went to set off but were very disappointed to find the thick covering of ice all over the Volvo. Luckily the old tank started but this had delayed us somewhat and we didn't arrive until about 8.30 am.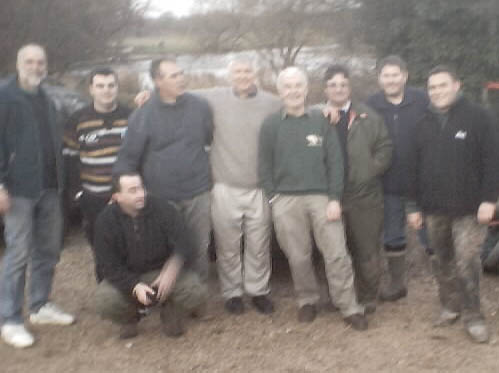 Most of those present, Right to Left: Paul Whiteing, Paul Welch (non BFW), John (kneeling), Goose, Graham, Keith, Allan, Andy, and Myself. Paul Smith and Lyne are not in i​
t.
We were not the last ones there – but a few were already fishing. In the Car park we met up with Allan, his son in law Andy and Paul (Whiteing). Lyne pulled up and already fishing were Goose, Graham, Keith, and the brothers Smith (John and Paul). It still took me ages to get sorted but went for a walk along the bank and met up with those already fishing. It turned out that most people were fishing upstream and hadn't caught anything so far. I decided to head down stream near the Backwater under the Roadbridge. This was because my friend Paul fancied trying a spot of Piking. I found a nice crease behind an 'island' and started fishing the feeder. During the course of the day I did have a few lightening fast bites but was unable to hit any of them. Around 3.30pm I had a pull which I was able to hit and had a slightly ominous feeling about the feeble resistance at the other end. Anyway say no more but I was wearing Camo! That was about it for me – we took a walk back to the Car park to see how others had faired. I was expecting that a few people had caught at least a Chub and that maybe somebody had fluked a Barbel. However optimism hadn't helped and the result so far was an eel and two sea trout. One Sea trout to Paul Smith (12 inches). One Eel to myself. And Graham was star of the day with an eel and a sea trout (6 inches).
After a brief meeting in the car park (it was pretty cold by then) a few people decided to go for a quick pint before heading off, and a few more elected to go and get changed at the B&B first and then come back for a pint. I joined both groups!
The brothers Smith elected to go for a curry – and Allan, Andy, Goose and myself went for a Mixed grill at the Royalty Inn. The evening went well with the usuall banter – and plenty of Ringwood best.
It was eventually decided that the Next day we would try Throop, since the Stour was carrying some colour. I had already decided that on Sunday I would fish for Pike.
Sunday morning arrived, and I still didn't need the alarm clock. I was pleased to have to scrape off much less ice today, but wasn't exactly instilled with confidence. After buying our tickets at Davis Tackle it was off to the Blackwater section of the Throop. John, Paul and Goose stuck it out and fished for Barbel all day. I fished for Pike.
After trying a few swims I came across a steady slack between some rushes were I float ledgered a Mackerel tail. It was just a few minutes until the float started moving away from the rushes and I struck. The fight was a little lack lustre at first, as if the fish didn't know it was hooked. When I brought it towards the net however it just went mental and after some tail walking the fish dived under some dying onion stems and I had to go in to poke the rod under the offending weed. It was plain sailing from here and I netted the fish, unhooked it in the water and phoned goose to come and take some pictures (and to help me out of the water!) The fish weighed in at 12lb15oz which was a pleasing result for the weekend. However I feel that I should be disqualified from the competition, because I didn't even try to catch any Barbel on Sunday.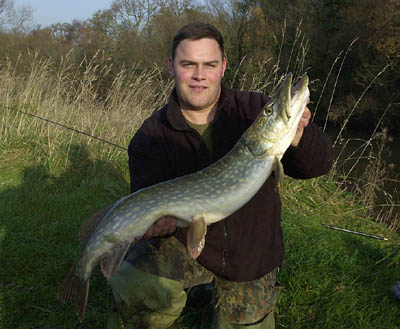 A well conditioned pike at 12lb 15o​
z
I tried many more swims over the course of the morning but was unable to locate any more fish. Packed up and went to see how the others had faired, after all the competition was still wide open. Since I was disqualified, Sea Trout are out of season, and Eels couldn't possibly count (against BFW ethics!) Goose and Paul hadn't had anything but after chatting to John for a while he noticed his feeder was bouncing along the bottom a little strangely. He struck and seconds later landed a fat minnow. After the photo session John returned the fish.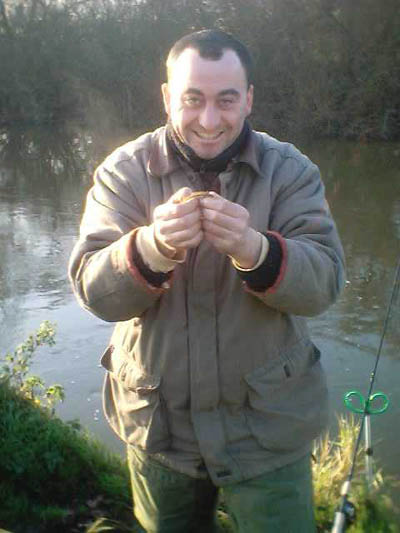 John with his personal best Minnow​
So in my opinion John has won the competition with this fine specimen. After that we all packed up and after a quick 'till next time' in the car park we headed off. The weekend was a success and thanks to all those who attended (and tried to attend) – it makes it worthwhile. The weather gods had ruined the fishing but it was a lot of fun – and an absolute pleasure to meet some old faces and some new ones too. Can't wait for the next one!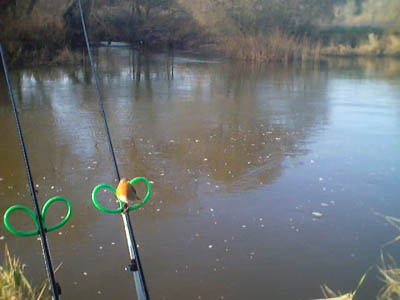 A Robin takes a rest on John's
Andy Davies