Sally and I have been desperate to use our little camper-car bought recently. Unfortunately I am between cataract operations, fit to drive but need to stay local.
Lovely Cajarc is only 20 minutes from our home. I have fished there, quite successfully at times, but never from the campsite swims. With a good weather forecast we decided to have two nights there.
When we drove into the campsite it was much bigger than expected - and almost empty. The pitch I thought best for fishing did not have an electrical supply so we decided to use the campervan battery and gas for the fridge. After parking up I put out a couple of rods with bite alarms, not something I do usually - but I have to do some chores and actually chat with my wife! Distractions from fishing, but it's a compromise I can live with!
Cosy, eh!
I put out most of my groundbait and there was a carp crashing about 50 yards downstream. By 10 pm it was dark and a carp had swirled quite close to my baits - game on, I thought.
Then Sally calls me - all our 12 volt lights have gone out!!!
Nothing for it but to chuck everything back in the van and move to a pitch with 220 V for us to plug into.
We managed it quite quickly but that was me finished with fishing for the night. Set up a new fishing pitch the following morning but with little groundbait left.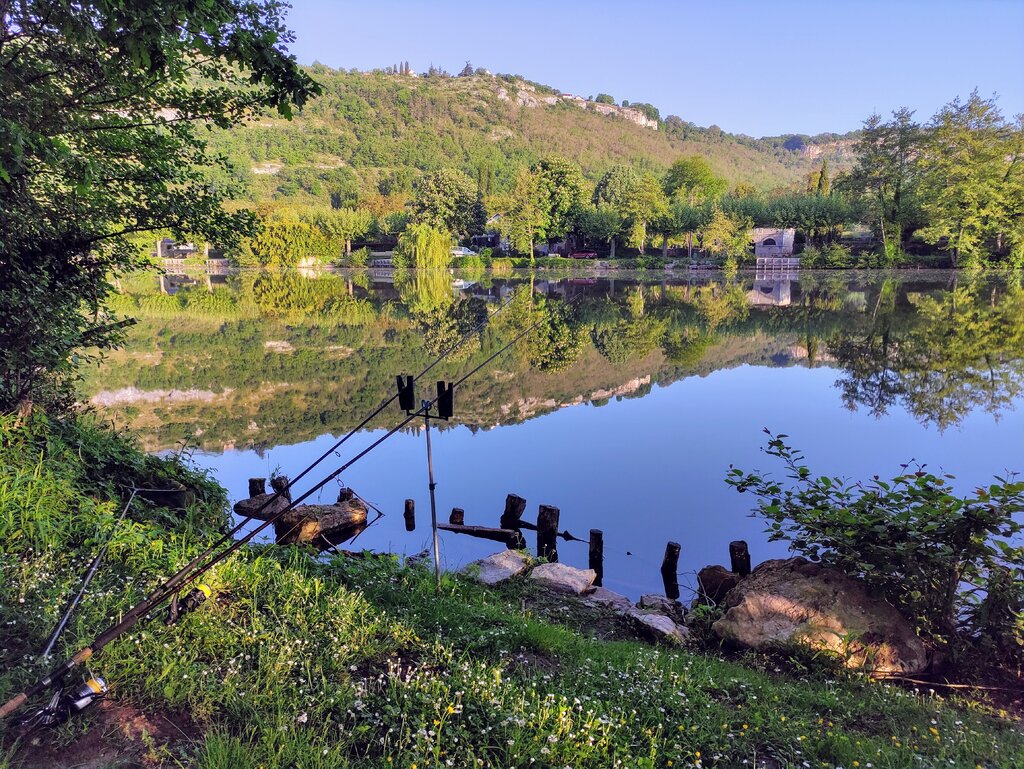 This swim did look better, for scenery anyway!
Baits went out just with stick mix bags I had prepared at home. What little was left of my groundbait I placed accurately with a bait dropper.
No bites until late afternoon, then a good run and hook-up resulted in a barbel about 6.5lb....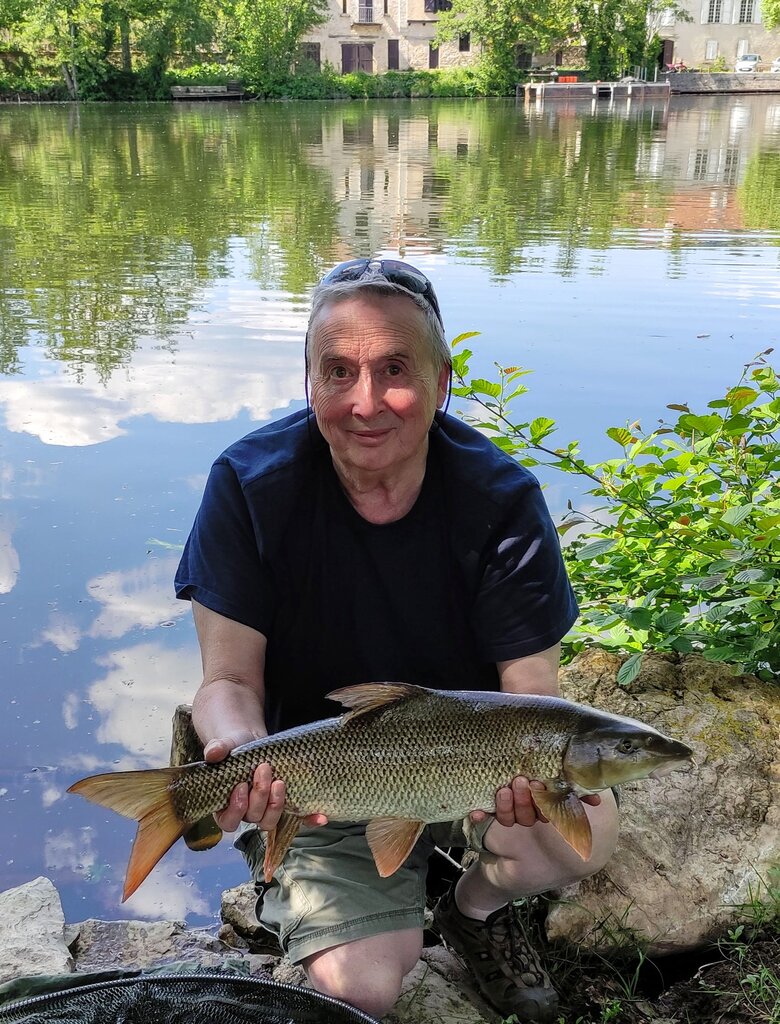 It's such a relief to get a fish after so long without a bite!
That was it for Monday, but it was a good fish for the lot. I was quite chuffed!
The next morning I was awake early and soon had two rods fishing. About 8 am I had a screaming run but missed it, I had been sat in the MH driving seat when the alarm sounded, by accident gave the horn a hard push as
I lept out of my seat. Doubt the neighbours were pleased by my noise and commotion!

But it resulted with my hooking one of my best barbel out of the river Lot, at 8 lb 2 ozs I was a very happy camper!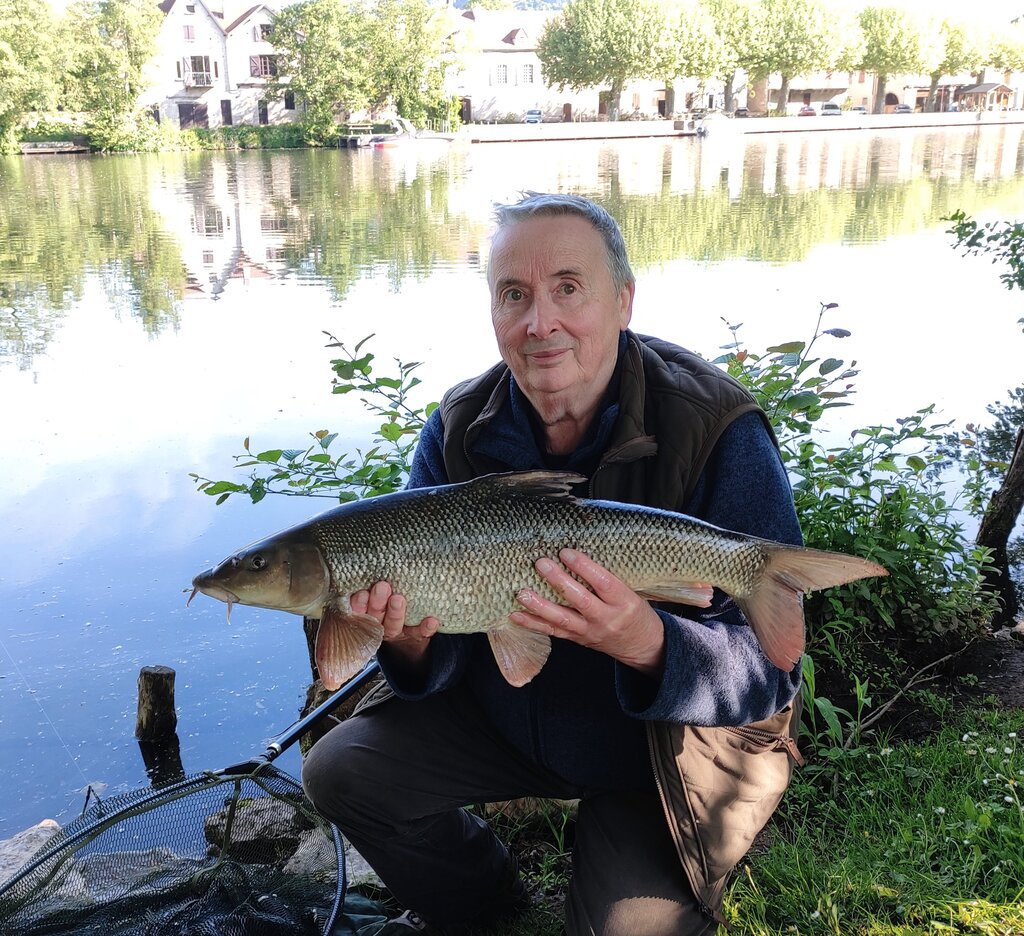 What a wonderful place Cajarc is, lovely town with some good campsites and, at times, excellent fishing. There are massive carp, silure and all the usual predators as well. I will struggle to leave this to find other fishing spots!