Super Moderator
Staff member
With no articles on BFW since November 2003, some of you may have been wondering what I've been up to. Well, rather than tell you the tale from start to finish, which given the average age of anglers these days, would be of absolutely no interest, even with colour photos and an invitation to our next session, I will jump straight to the result. Below is a photo of Harrison William Coulthurst, a new PB at 7lb 1oz, born on the 4th of February 2004. Now that the fun bit is long since over, it's down to sleepless nights and dirty nappies – hooray !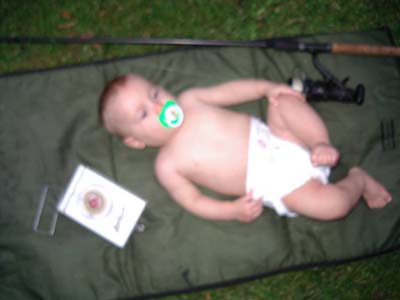 Harrison ? Surely he hasn't named his son after a barbel rod I hear you ask. Although I do enjoy my barbel fishing, I'm not an obsessive, the name choice was the wife's. If we do have another I've told the wife to go for something a little more traditional, I think Tryptich Chimera Coulthurst has a nice ring to it.
I had thought of matting him alongside a traditional split cane and centrepin, but remembered how cruel other kids can be. When I was at nursery, the kid whose dad had a Robin Reliant was dealt with mercilessly. Crikey, I can't believe it's nursery time already !
Kids nowadays seem to grow up much faster than when I was one. I remember when I was at school there was this one freak who had a beard and hairy chest at the age of 13. It was no coincidence he was the toughest kid in the year, he could tangle 4 or 5 windmilling assailants up in seconds thanks to all that body hair.
Nowadays, I've heard some kids have beards and chest hair before they're 11 years old, which is ridiculous. Fortunately though, with the advances made in male grooming, such kids now have a choice and don't have to stay unfashionably hairy forever.
On TV the other day, I watched a young lad having an SCS, which is the waxing of the shoulders, crack and sack (thanks, but no thanks). Not only was it very painful, but, for the crack and sack, the young lad had to pose on all fours like a poodle having its anal glands cleaned before a showing at Crufts.
Not even a Colombian "farmer†arriving at the US/Mexican border with two mules would be subjected to that sort of indignity. OK, maybe he would, but at least he'd have deserved to feel the long latex arm of the law. If I have to get naked and on all fours for anyone, it had better be for a whole lot more than a neater scrotum. Jon, put your fiver away son. Anyway, enough nonsense, onto the fishing.
After having lost a good fish to a parting of my Fireline braid in a well-known swim on the Kennet earlier in the season, I decided to have another crack at it in January, with Jon Callan joining me in the next swim down. Although conditions were not great, we were confident of a fish between us, with every chance of it being a double.
After about two hours fishing our confidence was rewarded as my upstream rod signalled a dink, dink slack liner as a fish picked up my bait. Jon was beside me at the time and in true Mr Crabtree fashion shouted : "that's a bite, strike Nick, strikeâ€!
Once I'd steered the fish away from a snag on the far side I gradually pumped her up the middle channel and then into the waiting net, ably tended by Jon. On the scales she went 11lb 6oz. After several puffs on his pipe and a suggestion that I change to lobworms or gentles for my next cast, Jon wandered back to his peg to see if he could extract one himself, but alas it was the only fish of the night.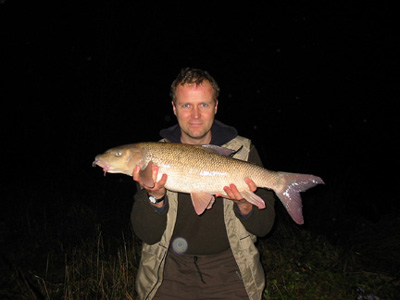 The photo below is especially for Dick, as I know his bedroom at home is wallpapered in similar photos, a shrine to his favourite species; the chub. Although this one probably wouldn't even make it on the wall behind his wardrobe, as at 6lb 1oz it's only a baby, it is a new PB for me. After several big fives, I was pleased to eventually capture a six.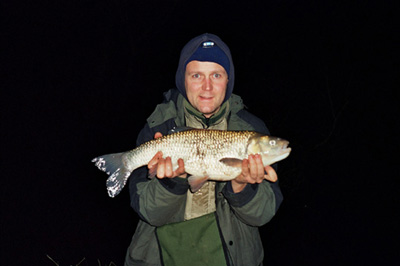 Having booked several days off in the final week of the season, despite the relatively low water temperatures, the consistent conditions persuaded me to continue trying for a final week lump, rather than switching to other species. During the first few days of the week, Jon Callan and I were out fishing very hard late into the night on several occasions, and although the fishing was hard, we managed to pick up at least a fish a piece on all occasions, but sadly, no lumps.
For my penultimate session of the season I opted to fish alone on a favourite stretch of Jon's from last season, which I had only fished once before when I recorded my PB carp of 17lb 11oz. On reaching the venue I discovered I had the entire stretch to myself, bar two pike anglers. Had I made a mistake ?
The conditions were much the same as on previous days with the water crystal clear and the temperature slightly down on the previous day at 43.3F. Initially I decided to sit it out in a swim, but after three biteless hours I began to think I had definitely made a mistake, and that I should have been back home in the Jacuzzi with a modest number of naked buxom girls. For some reason, three seemed a fair and reasonable number, four greedy, and five plus, simply unmanageable.
Just as I began to drift off to the land of lavender bath oil, saucy girls giggles and the white eyed smile, I caught the glint of one of my rods out of the corner of my eye, and hastily bid my fellow hot tubbers farewell. After staring intently at my tips for the next few minutes, I couldn't work out what had caught my eye until I watched a snowflake settle and melt on my carbon blank, followed by hundreds more, as the sky whited out. GREAT !
On that note I decided to pull all my layers on, pack all my gear up and go …………………roving. I figured the drop in temperature may just persuade the odd fish to have one last nibble, but given the brevity of the window, decided it would be best to try and drop a bait on a fish's nose rather than sit it out.
After having dropped in a couple of swims with no indications, I decided to try a swim Jon Callan had put me in on my first visit, the same one that yielded the PB carp. I had one rod mid-river and the other a third the way across, above an underwater snag.
Once I had the rods in position I stood well back from the bank and smiled as I looked at the masses of snowflakes descending from the sky. It was great being a kid again, especially one that had escaped being shoe horned into his brother's old nylon underpants and had his hair wetted and parted by his Mum.
Whether or not it was the extra freedom my Calvin Klein's afforded me or the spirit of Rocky Balboa training in the Siberian tundra for his meeting with Drago, I suddenly found myself doing star jumps and shadow boxing behind my rods whilst laughing insanely - dog walkers and other members of the public pass at own risk
Despite my odd behaviour and the sudden change in the weather, I had a great feeling of anticipation, but of what I wasn't sure. To be honest, being abducted by aliens seemed likelier than catching a barbel, but that was irrelevant, I felt great, charged, alone and at the centre of things out there, like the Highlander during the quickening.
Despite being momentarily possessed, I noticed a quick tap on my nearside rod, and the spell was instantly broken as I hastily made my way towards the rod. As I hovered my hand over the handle it pulled round sharply and I lifted into a fish. The rod took on that familiar battle curve associated with a good fish and I knew I had a real chance of a snow double.
After making several short powerful runs, I lifted a potbellied porker over the net cord and laughed quite sanely. On the bank the scales read 12lb 13oz, and after taking several snow shots, I returned her to the water, a minor ambition fulfilled. It wasn't the best fight I've ever had from a barbel, but I guess a 12lb plus barbel versus Rocky Balboa was always going to be one way traffic, even a wheezing, balding 37 year old version – she didn't win a single round.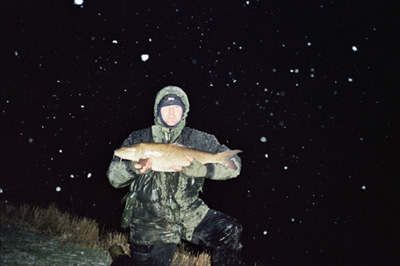 A quick call to Jon Callan made the capture all the more interesting. The fish was easily recognisable and was captured by Jon almost a year to the day before at 12lb 15oz in exactly the same swim. Not only that, the fish had been caught during the summer approximately a mile upstream, suggesting she was a traveller on a similar route to last year.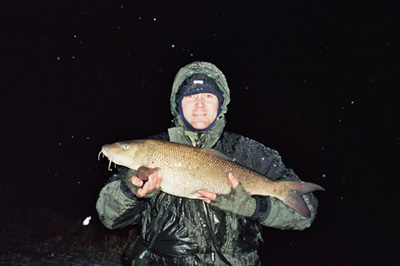 Whatever her history, I was extremely pleased with myself and would have gone home there and then, had Jon not informed me he caught her as the smaller half of a brace of doubles, the other being 13lb 10oz. However, after another two hours fishing, did pack up, making my way back down the M4 and straight home. I was dog tired after a hard few days fishing and went straight upstairs, slipped out of my clothes and lowered myself into the bubbles : "Apologies for the rude interruption girls, now where were we ?†zzzzzzzzzzzzzzzz.
Although the 2003/2004 season wasn't as memorable as the previous one for me, I did manage to up a couple of river PB's and although I didn't capture any monsters, I was pleased with Jon Callan's huge summer fish of 14lb 4oz, he deserved it. Top angling mate!
Tight lines all.
Nick Coulthurst