Super Moderator
Staff member
Welcome to Born Again Barbel Angler's monthly diary, here on BFW. For all those of you who are not up to speed yet, this is a monthly piece written by the artist formerly known as Nick Coulthurst. With a clean slate and nothing but glassy glides ahead of me, the future again looks rosy.
In the winter of 2001 I decided to specifically target bigger barbel on the Kennet, and being that I didn't want to invest in any new club tickets at such a late stage in the season, I selected an RDAA stretch for some serious attention. Most of the feedback I had about the stretch was that it was moody, but there were some good fish present. That winter I did it the hard way, fishing virtually every peg I fancied held a barbel or two on the venue, which is about a mile and a half long. I did speak to the odd angler I met on the banks and gleaned some information, but not a great deal. After a hard campaign, I ended up with a string of 8's and 9's, but that elusive double figure fish eluded me.
The next season saw ever-increasing numbers of anglers on the bank and I pulled off after a short period, still without a double, to fish other venues. This season I fished it on open day with Jon Callan and had yet another 8, whilst Jon managed his customary double (of course). Although I had no intention of going back in the near future, when I found someone fishing my chosen spot on another venue, I decided to give it a go.
That evening I quietly secreted myself in between some trees, with the main flow pushing under my feet. The swim looked spot on with a nice undercut, plenty of bank-side cover, tree roots below and a nice depth of about 4/5 feet. Given the low clear condition of the river, there just had to be a boris or two holed up there. I decided to fish a light running lead on my inside rod, which I gently lowered in slightly downstream of me, letting the current sweep in into the undercut. On the other rod I fished a running lead and bag in the boat channel.
After about an hour the boat channel rod pulled down and I was into a fish, which I brought to the net with the minimum of fuss, to prevent disturbing my other swim. It was a pretty 7lber, which brought a contented smile to my face. Whilst I had initially been flicking the boat channel rod out every 30/40 minutes or so, putting down a steady bed of bait, I had resisted disturbing the inside rod, making only three casts in over 4 hours. Rather than use a dropper or bags, I had been constantly trickling in 10mm boilies instead.
After about 4 hours of fishing, the inside rod pulled round sharply and I lifted into a good fish. With the extra flow on the inside, and my hit and hold approach, the fish came to the surface early and I got a good view of it. Nice fish that I thought, is it a double ? Once I had the fish away from the tree roots, I allowed it to tire itself under the tip before sliding it over the net cord. Up on the bank I peeled back the net and pondered. On the scales it went a fraction over 10lb and my smile broadened. I quickly rattled off some photos and made the trip home shortly afterwards. The photos as you can see were a disaster, but at least you can't see my bald spot !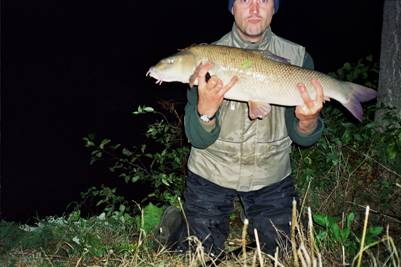 I know I don't look it, but I was made up with that fish. It just goes to show, you can try too hard sometimes.
With the proliferation of camo clad barbelers, with secret baits and dour expressions, this scene taken on a small Berkshire stream this August, brought a smile to my face. Don't know what the old boy in the middle had on his sandwiches, but they must have been damn tasty ! I wonder how many times two of them had a bite at the same time, only to discover seconds later that old Ted on the end had cast over their lines. Again !
My theory is that they are three Yorkshiremen, involved in a high stakes match : £1 entry fee, winner takes all. When the stakes are that high, trust is pretty thin on the ground.
Have to say it looks more like a slip cordon at Lords than a view from a riverbank, but fishing is different things to different people !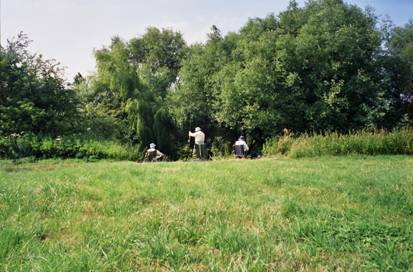 Having suffered a succession of blanks in November I decided to join Jon Callan for a midweek session and see if I could put an end to it; the blanks that is. Jon managed to get out earlier than me and before I had even set off had phoned in to record a 12lb 7oz fish, taken from a swim he'd long fancied to produce a good'un. Just as I got onto the M4 the phone rang again, and Jon kindly let me know he'd just had another of 10lb 14oz. Twenty minutes later I was at the venue and sprinting towards the river like a gypsy racing seagulls to the tip.
After 5 hours of fishing without so much as a nibble between us, however, my enthusiasm had waned somewhat. It was OK for Jon, he'd had a cracking session before I'd even got there, but I had missed the "window†and was bitterly disappointed to record yet another blank. I decided something drastic had to be done and came up with three options to maximise my chances of catching :
1) Fish daylight into dark above a known holding area and feed heavily with maggots until I drew a fish or two out.
2) Fish an all-nighter, so that I could ensure being on the bank during any short feeding spells.
3) Rove a prolific venue dropping a bait in front of as many noses as possible.
Although I have had some success with the heavy maggot approach before, I was reluctant to take that option, as I had already wrapped up the boy's Christmas present and wasn't 100% sure I still had the receipt anyway. A cheaper option was therefore chosen, and I spent an all night session on a canalised section of the Kennet. Despite my recent poor run, I was optimistic, and managed to prevent the heavy rain and leaf litter dampening my spirits. Well, I did for the first four biteless hours of the session anyway. By morning, I was a changed man, I was damp, extremely tired and borisless ! Know the feeling ? Despite regular activity throughout the night from chub and bream, all I had managed was a 5lb 3oz chub for my efforts.
In the morning I gave Jon a ring and told him the news. When he and his Dad had finally stopped laughing, he told me I was probably best off having a rove on a prolific stretch to see if I could pick up a face saving little'un. Although I didn't much feel like it, I packed up my gear and headed off with the look of a man heading for the gallows. Who said fishing was a relaxing pastime ? Anyone who saw me that day would have sworn I'd come straight from a heavy night at Stringfellows. Actually, I looked that rough, a few may have thought I owned the place !
The stretch I chose is one I discovered myself whilst researching clubs and venues a couple of closed season's ago, and is one of the more scenic stretches of the middle Kennet. It has a mixture of gravel shallows, deep holes, open and tree lined banks, and has a decent head of mostly smallish fish. My PB was 8lb 6oz, but a friend had banked a fish of 9lb 15oz weeks earlier and I had heard reports of low doubles. It is a venue I occasionally fish, mostly when I need a bend in my rod.
I dropped into a few swims on my way down to the area I fancied, but didn't pick anything up on the way, just one missed pull from an undercut. When I reached my fancied swim I changed my lead over to a 1oz bomb, which I feathered down to the far bank and then manoeuvred just in front of a snag. I left the bait there for a few moments and then felt a couple of pulls, which shifted the lead slightly. I then felt another few pulls, but after 10 more minutes nothing developed. I decided to gently retrieve my terminal tackle, throw in half a dozen bits of paste and vacate the swim for a while.
I returned about 30 minutes later and crawled into position, careful not to give my presence away. I made an identical cast to the first visit and again received a couple of pulls, which shifted the lead. Moments after the lead had resettled, the rod lurched over and I leaned into a very heavy fish. I knew I couldn't afford to give the fish any line, and after my clutch slipped one and a half turns, I clamped down on it and let my rod absorb the pressure. The rod quickly took on the shape of a carbon croquet arch, but the pressure began to tell and I managed to slowly bring the fish out of the snag into more open water. Once in more open water, I allowed it a couple of short powerful runs, but on one of these it dramatically changed direction, and came towards the near bank where it picked up the extra flow. With the momentum gained, it then made yet another concerted effort to get back in the snag.
At this point I could clearly see where the line was entering the water and knew that if the fish made any more ground it would reach the snag. Once more I clamped down and used every ounce of my strength to stop it in its tracks, but all of a sudden everything went solid and I momentarily feared the worst. Rather than panic though, I simply maintained full compression and was relieved to discover the fish had not actually reached the snag, but for a brief nanosecond, had been equal to my efforts, after which it eventually tired and dropped back out of the snag.
The fish was now visible in the clear shallow water beneath me and I watched it make several more spearing dives for the deeper water, each one becoming increasingly unbalanced and wobbly, as fatigue set in. I was now letting the rod do all the work, simply keeping a stiff arm in order to turn the fish each time. Although I could see the fish was special, the fact didn't really register with me and I played it from then on as if it were a 7lber, sensing the day was mine. As it slid over the net cord I had a good look and immediately thought it was a good twelve. On the scales it went 13lb 3oz and a new Kennet PB. All those blanks and the horrendous night in the rain were now a distant memory, I was 24 years old and Mr Friday Night once more !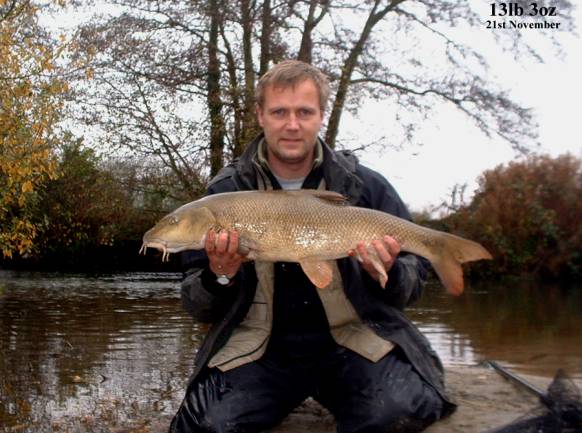 The capture of that fish and others I have had, confirm several things to me about barbel fishing :
1) It pays to do some research and find your own venues to fish, rather than following the crowds.
2) Virtually every stretch of the Kennet holds 14lb plus fish, so why follow the latest captures ?
3) Hard work usually pays dividends.
4) I love catching big barbel !
With Christmas fast approaching, I thought I'd remind you all to remember those close to you and to make a special effort. It's so easy for Christmas to become a routine, and for the meaning of Christmas to be lost. Christmas is about giving, but is yet another set of genital electrodes and car battery for Dad, a course of Regaine for your Mum, a course of HRT for your brother, a flood damaged electric blanket for the mother-in-law, a volume control for Gran's hearing aid (up), a volume control for your sister's big gob (down), a bottle of meths for the father-in-law, and yet more Anusol for the wife, what it's all about ?
This year, why not try and think of something different to give loved ones, or better still, why not make something yourself. The personal touch never fails to thaw even the frostiest of hearts, and really shows how much you care. Last year my mother-in-law knitted me the hat below, and I can't tell you how pleased I was. Respect on the riverbank doesn't come easily, but it's surprising how much easier it comes with the right props. Anyone fancy coming fishing for Tubby Barbel ? If you really want to be Tinky Winky for the day, I won't mind !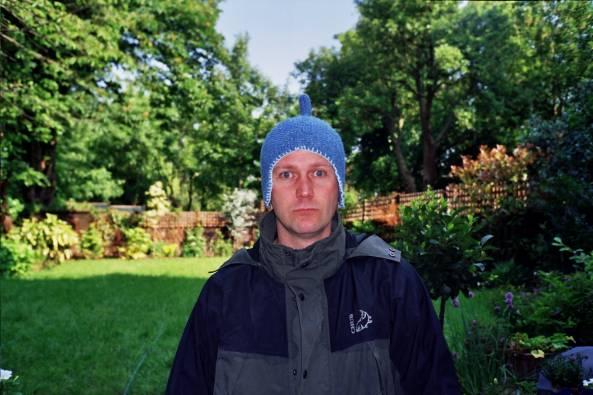 Tight Lines
Nick Coulthurst