Super Moderator
Staff member
Well I'm pleased to announce that the unveiling of the Mavis Bagenderby minibus went well. The night before the big day I decided to try and make it a day to remember for the kids and so made about fifty cardboard cut-outs of my face and stuck them on the end of sticks, so that all the kids could go round as me for the day. Until you've actually been to a big event like that, where three children are going round looking like you, you just can't appreciate how weird it is; it was like something out of the Twilight Zone. I now know how hard it is to keep your sanity in this business. Like to say a big thanks to Ben, Suzie and little Tom; the toffee apples are in the post. Honest! Anyway, enough of my celebrity lifestyle, onto the fishing…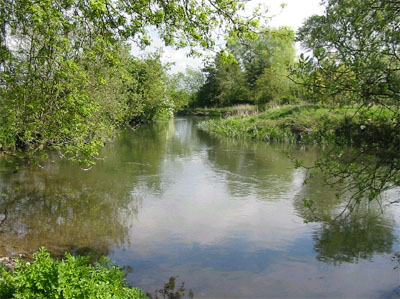 As I had a disastrous start to the season last year I decided to take some of the guesswork out of proceedings this year and tap up my old mate Jon Callan about a banker early season venue. The one he suggested didn't exactly scream early season banker, with 7ft under the tip and the nearest shallows over a mile away, but it had produced in the past, so that's where we headed. On the 14th I had attended a wedding and managed to drink considerably more than the value of the wedding gift, and was rather pleased with myself, until that is, I had to drag my sweaty, palpitating shell out of the house and go fishing at 5pm on the Sunday.
As I pulled into the car park, the air was heavy with pollen and insect life, the river was low, but had some colour in it: I couldn't wait to get out there and cast a line. I loaded my gear onto my back, grabbed my oxygen cylinder and made my way very, very slowly to the agreed area. On reaching the spot, I sat down and cast my eye over the river. The view imposed a silence upon me as abruptly as the piercing gaze of my old school librarian : it was breathtaking. It was almost like looking over Olde England, with the meadows all overgrown, the bank side fauna in full bloom and the river quietly meandering its way through. She bore none of the scars of civilization, only a few fading hoof marks from cows which had come to drink from her banks, the season past. I wished that every other angler would follow the exact same path as I, so that the meadows would stay as they were that day, but knew it wouldn't last for long. Alas, the bivvies and beer cans would be here in a few days, probably not as far away from the car park as I was, but at least along the first 50 yards.
After about half an hour of making daisy chains and whistling folk songs the Paul Garner way (oh yes, the Doctor), I spotted Jon charging along the riverbank like a man possessed. He'd obviously missed me much more than I'd thought. As he approached me he said his hay fever was playing up, but I knew he was choked and offered him my handkerchief. After a quick roll in the long grass for old time's sake, we sat down and discussed our plan of action. As I had tapped Jon up, it was only fair he have first choice of peg.
Jon dropped into an old favorite and I decided to be sociable by fishing one down from him. Jon assured me my swim had produced for his Dad early last season, so I was fairly confident. After priming our swims we sat and chatted about our plans for the forthcoming season and before we knew it, came the all in at midnight. At about 5 minutes past, I heard that sickening sound, no not the crunch of a new rod underfoot, or the heavy breathing of an amorous bull five inches from the nape of your neck, but the sound of Jon calling for his faithful ghillie to come and net one. I popped my head up and enquired as to how big and he nonchalantly replied about 7 or 8. As it was Jon's first of the season he decided to weigh it and was surprised when it went 10lb 2oz. Funny how much smaller it appeared in the dark. Since that night, I have changed the habit of a lifetime and started having sex with the light on. Two minutes after Jon's fish, my far bank rod indicated three pulls in succession and I lifted into a fish which I knew instinctively was one of the stamp fish for the stretch, and so it proved when the scales pulled round to 8lb 4oz. Not sure if I was overconfident or just still groggy, but I didn't photograph the fish which proved to be my only one of the session. By 2.30am I was back in bed dreaming of my next session.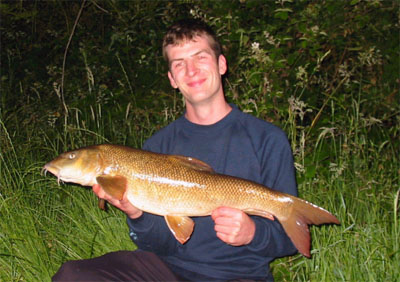 My next session was an impromptu one on the Gt Ouse, brought about by a terrible snarl up on the north circular, which forced me to swap venues. The stretch I was on has a very thin population of barbel, but produces the odd biggie. It fits into the category of "one for the pioneering angler, with no track record for barbel, but in the heart of big barbel country", only unlike most of the venues which fit that description, this stretch actually looks like it should hold a decent head of fish, rather than being like a Fenland drain. I managed a chub and two snotties, but heard a good number of large fish rolling and am determined to return to see if one of them is a barbel with my name on it. I have to say, blanking in paradise isn't too hard to stomach.
Next up, an evening session with Jon Callan on one of our late season Kennet haunts, which holds many fond memories, not least of all for a brace of 13's between us in one evening last March (plus three other doubles for Jon I might add). It was a funny old session, with plenty of fish rolling and the tips showing regular indications, but with no positive pulls. The fish were just not on the bait for some reason. After flogging away I eventually managed one of 8lb and Jon had a monster chub of 5lb 13oz before we packed up.
Without new blood, this great pastime of ours will eventually die and our children will be denied the thrilling experience of pursuing the river prince. With that in mind I decided to coax a lapsed angler friend of mine, Glyn, onto the river and hopefully return him to the fold. Admittedly I went a bit overboard with the hard sell and told him it would be like being trapped in an elevator for three days with Raquel Welsh, Rachel Hunt and Elle MacPherson, with nothing for sustenance but oysters, ground rhino horn and liquid Viagra, but it worked. When you're competing with the likes of Atari, Mousetrap and Buckaroo, anything goes. As you may have guessed, Glyn is strictly old skool when it comes to his entertainment.
Wanting to leave as little as possible to chance, I opted to fish one of the RDAA's most prolific stretches and went armed with a little local advice on swims and tactics, just to rubber stamp the result. Glyn, on reflecting on the day said "it was a beautiful day to be on the river with the sun shining and the swallows swirling and dipping in the air above, it would have been the icing on the cake if we'd put a barbel on the bank". You guessed it, we both blanked. I was a little red faced when two anglers passed us by late in the day and managed to squeeze out between my fingers that they'd had a few out of the deeper holes below us. I really must work on my grip! Glyn has promised to give it another go and this time we'll stay until that rod goes round.
Most recent session was a few hours rolling meat on the Pat's which brought no reward (only one fish spotted) followed by a couple of hours roving a totally overgrown bit of the Loddon, which brought me an 8lb 2oz barbel right from under the rod tip. That fish brought my whole weekend to life as it spun the screwed down clutch on my reel and bucked the rod over in its bid to escape. What a fight!
Although this is a Barbel fishing diary, I think there is always a place in any piece for more serious social issues, and one I would like to tackle is that of pushy dads. Being a dad myself, I feel very strongly that children should be allowed to pursue the interests that they want to, and not be pressured and coerced by domineering fathers into pursuing interests that they themselves either follow now or followed in their youth. Babies and small children have vivid imaginations and when left alone, quickly get lost in a magical and enchanting world. There's plenty of time later in life for tests, exams and extra football practice. Below is a photo of my small boy (22 months) just doing what comes naturally to him; well and truly in the enchanted zone. Lets not spoil it!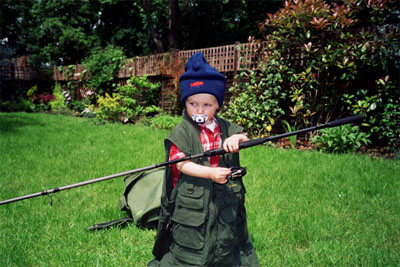 Tight lines all
Nick Coulthurst
P.S. Anyone who would like 47 cardboard cut-outs of myself mounted on sticks for their child's birthday party or some other event, please e-mailme direct.