Super Moderator
Staff member
GRICE & YOUNG

A Good Choice for Barbel?​
If you're looking for a good usable pin that doesn't break the bank and has a touch of sentimental value then it's certainly worth looking at G&Y's many variants. Made in Christchurch, these are robust reels, presumably designed with trotting and bottom fishing' on the Avon and Stour in mind. I've no idea how many reels G&Y made or the exact chronology, nor do I have any desire to find out, suffice to say that there are still plenty of good reels around. Being refreshing free from 'tackle tart value' keeps prices sensible and a tidy cheaper model, for example a Golden Eagle, sells for around £30. Even the more upmarket Avon Royal Supreme shouldn't cost more than £70 for a mint example; a boxed unused' Supreme sold on ebay recently for £64.
Most of the popular models were made in two sizes; 3 ½ inch and 4 ½ inch across the rim. The larger reels have a width of around 5/8 inch and the smaller reels are a little narrower. For most barbel fishing a 4 ½ inch reel is perfect, but the smaller reels are worth considering if trotting for smaller fish with a lighter rod. I load a 4 ½ inch with 100 yards of 8 lb mono without problem, whereas 80 yards of 6 lb is about the comfortable limit for the 3 ½ inch. There are wide drum models, which tend to be bulky and heavy, and other sizes but these are best left to collectors.
Common models include (with the cheapest first) the Golden Eagle, Gypsy D'OR, Avon Crown and Avon Royal Supreme. My personal preference is the Gypsy D'OR for legering and the Avon Royal Supreme for trotting. Just a word of warning here, Shakespeare produced the Golden Eagle for a while but they used a 'carbon' (plastic) backplate and it's not the nicest reel.
G&Y were a classic 'parts bin' company and the variants are endless. At times it makes you wonder whether the model names have much meaning, as they seem to have assembled reels from whatever they had to hand! There are, for example, a lot of later Avon Royal Supremes with Golden Eagle type spools, retaining caps and line guards. It doesn't help that many parts can be swapped between reels but there seem to be too many combinations around for these to have resulted from owners swapping components.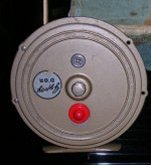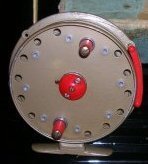 4 ½ inch Gypsy D'Or with button ratchet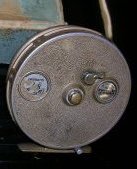 4 ½ inch Avon Royal Supreme with adjustable drag and rim lever ratchet (line guard removed)
To be honest there's little to choose between the various models mentioned. All are true pins and the line sits on largish pins that hold the front and back plate of the spool together. There are unvented spools, those with holes in the front plate only and those with holes in front and back plates. The vented spools are naturally lighter but I prefer the backplate solid as this keeps the muck and water out better. There are button and rim lever ratchets; I find the latter easier to use but the backplate to accommodate this is bulkier. All have removable lineguards (for those who prefer the unguarded Wallis cast!) and these are reversible. The Avon Royal Supreme has an adjustable drag, which again makes the reel bulkier but does allow a float to be held back hard if required. Nice details on the Supreme include an oiler and spare pawl.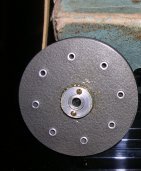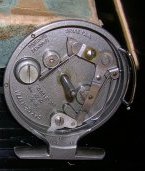 3 ½ inch Avon Royal Supreme showing rim lever ratchet and adjustable drag mechanism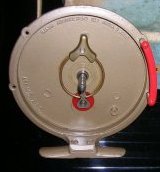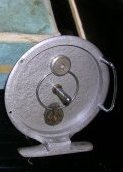 Button ratchet mechanism in Gypsy D'or and
3 ½ inch Avon Crown
In use these reels don't have that watchmaker feel of an Aerial or modern replica, it's more of a reassuring feel. You know they're not going to let you down and, with regular cleaning and oiling, they'll be doing the same for years to come. The design of the spool with it's heavy pins and rolled edge makes it quite heavy so needs a touch more effort to start it moving, however once moving the extra weight keeps things moving nicely. When buying the standard rules apply - the spool should run freely without wobble or play. Condition and completeness are important, as there are few spares around and few serviceable parts. Check line guards for grooves as these can wear a little. The spool retaining cap with the flat bar is a better than that with a wire loop as the latter doesn't last as well. Generally being simply constructed makes worn out and dodgy reels easy to spot. Centrepins will always be very personal and bought for very different reason. My first reel was a sentimental purchase; I fish the Avon and bought an Avon Royal Supreme to, take it home. That was one of the best decisions I've made, as centrepins and the Avon have become an addiction! Remember life doesn't need to be a grind; try going round in circles!
Rob Keywood
© rob keywood 2006